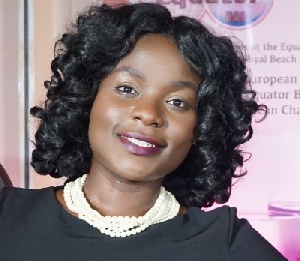 A presidential staffer at the Office of the President, Flagstaff House, Louise Carol Serwaa Donkor has incurred the wrath of New Patriotic Party (NPP) footsoldiers on social media over comments she passed on a post denigrating the ruling party's footsoldiers.
Ms Donkor, who is the number 114 on the list of 998 is, in addition to her presidential staffer role, a leading member of controversial girls group PepperDem.

She wrote in response to a post about not dealing with footsoldiers as a principle: "You shouldn't", she encouraged her friend who posted it. "You can't reason with them (footsoldiers)." She said.

"It's like tribalist", she added.

She has since apologized for her comments.

NPP footsoldiers, however, are saying nothing short of a sack will appease them as they have been insulted once too many by the 'privileged' political staffers who are beneficiaries of the footsoldiers' sweat.
Not long ago, MyNewsGH.com reported how another presidential staffer, one Napaga Tia Suleman said the 'nonsense' where party footsoldiers meet her at programs with their CVs must end in 2017.

She received wide flak and was consequently reprimanded internally by the Presidency for her highly insensitive comments, even if it was a joke taken out of context.

She apologized as a result.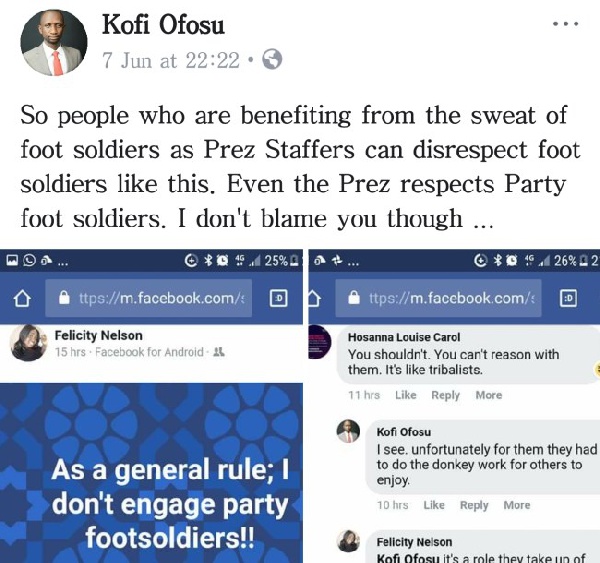 A hashtag has since began, 'Get_Her_Out', led by Sammi Awuku's body man, Atick Yakubu on facebook.
Leading NPP media activists including Kofi Ofosu have expressed their disgust at her comments.

He wrote:

"So people who are benefiting from the sweat of foot soldiers as Prez Staffers can disrespect foot soldiers like this. Even the Prez respects Party foot soldiers. I don't blame you though …" He wrote on his own facebook page in response.

Atick Yakubu wrote:

"If you think you are too big to engage footsoldiers , then you have no right to benefit from their sweat . You cant tell me that you hate corn but love kenkey. #Get_her_out"..
"If she went through any of these during the struggle she wouldn't have made that stupid comment. Some of these imported staffers are just waiting to book the next flight when we lose power. #JustSackThem." Another activist Goodfellow Dei posted accompanied by a picture of NPP Loyal ladies campaigning.

A whole campaign has emerged to get her sacked.