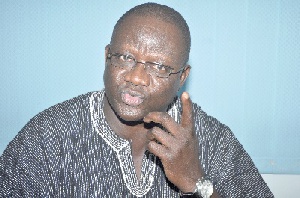 A Special Aide to Paul Awentime Afoko, Nana Yaw Osei, has refuted claims that he has been suspended from the New Patriotic Party (NPP).
The Ashanti Regional Secretary of the NPP, Samuel Pyne, on Monday, told Yaa Serwaa Akoto on Anopa Kasapa on Kasapa 102.3 FM that Osei's suspension had to do with his involvement in organizing some people to demonstrate against the leadership of the party for suspending Mr. Afoko.

He said scores of people who were summoned before the party's disciplinary committee in the Ashanti Region over the demonstration that took place in Accra alleged that Nana Yaw Osei sponsored the event.

Based on the confessions, he said the party was left with no option than to evoke Article 3 (f) (1) of the party's constitution to suspend Osei indefinitely, pending a decision by the National Disciplinary Committee.

Such a decision, he said, had been communicated to Osei.

But Osei responding to such claims told Serwaa Akoto through the same medium that his alleged suspension is unconstitutional and therefore, would not waste time to glorify that.
That aside, it was only through radio that he heard about his alleged suspension and, therefore, wondered why such a decision would be taken about him without first contacting him for his response.

"I am hearing this for the first time on radio, and I won't glorify that. The Regional Party cannot suspend me and then after communicate same to the national level to investigate. They can do their worst, and I will not respond to them. I won't even waste my time on them. If they want, they should come out and tell the whole world that I have been sacked from the party and when that happens it is my right to challenge it or not," he noted.

He told Serwaa Akoto that he was never contacted by the party's leadership in the region about the decision to suspend him as demanded by Article 3 (f) (2) of the party's constitution.

Article 3 (f) (2) of the NPP Constitution states, "Any decision to suspend a Member shall not be taken unless the nature of the complaint has been communicated to the Member in writing and disciplinary proceedings have been initiated against such Member."

When asked by Serwaa Akoto if he will honour any invitation by the party's disciplinary committee to respond to the allegation of organizing some people to demonstrate against the party, he answered, "I will, first of all, look at what the party's constitution says before deciding whether to go or not."