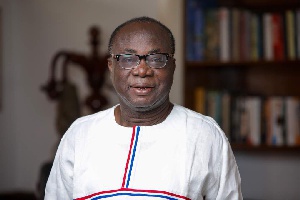 Mr Sandow Baziemi, a Deputy Communication Officer of the Tema East constituency branch of the opposition National Democratic Congress (NDC) has questioned the source of Freddie Blay's source of GHC 9 million he allegedly paid delegates.
He said the revelation that Mr Blay spent that amount on Travel and Transportation was a fresh lead for investigators, especially the Special Prosecutor's office, which was already investigating him over the supply of 275 buses for his party as part of the same election.

"As a Ghanaian, I am demanding that the Special prosecutor opens an additional docket into Freddie Blay and his amazing election spending," Mr Sandow said in an interview with the Ghana News Agency on the NDC campaign strategies.

Mr Freddie Blay, the National Chairman-elect of the ruling party is currently in town after he allegedly supplied a total of 275 mini buses to his party.

This had since attracted the attention of the Special Prosecutor, but even before Martin Amidu and his charges would commence a probe, it emerged that he had paid every one of 6000 delegates who went to Koforidua to vote in the NPP's National executives' conference GH¢1,500.00 each.

The Western Regional Chairman of the ruling party, Ndede Siah who made the revelation said he so in an attempt to clear the air of rumours that Blay had paid each delegate GH¢ 3000.00 for T&T.

"It is not true Freddie Blay paid GH¢3,000.00 to each delegate; but as transport expenses, Ntim gave each delegate GH¢1,000.00 and Freddie Blay gave each 1,500," he disclosed.
Mr Baziemi said after calculating the amount to the number of delegates it all amounted to GH¢9 million, which needed more answers from the NPP National Chairman.

"GH¢1,500.00 multiplied by 6000 delegates is Gh¢ 9million, Where did Freddie Blay get this kind of money from?" Mr Baziemi asked.

Meanwhile, Ndede Siah, the Western Regional Chair of the NPP had also revealed that Stephen Ntim, Blay's challenger in the Chairmanship race had spent GH¢6 million on T&T for the delegates, paying them GH¢1,000.00 each.

On the NDC campaign strategies, Mr Baziemi said as soon as all Regional and National Officers were elected, they would hit the campaign trail and wrestle power from the NPP government.

"We have the personnel that will help the party back to power, all we need now is unity of purpose and peace among members to achieve the ultimate come 2020."