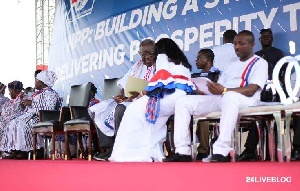 There were no representatives from the country's leading opposition party, the National Democratic Congress (NDC), at the 26th National Delegates' Conference of the ruling New Patriotic Party (NPP).
No reasons were immediately adduced for the absence of NPP's arch-rivals.

As has been a custom with political congresses in Ghana, opposition parties are invited to deliver solidarity messages.

At NPP's 2018 Annual National Delegates' Conference held at the Koforidua Technical University (KTU), some opposition political parties namely People's National Convention (PNC), Progressive People's Party (PPP), National Democratic Party (NDP), Convention People's Party (CPP) and the Liberal Party of Ghana (LPG) were present to deliver their well wishes.

The ruling party is electing new executives for the next four years.

Most of the political parties congratulated the NPP government for the progress made so far.
PPP's Murtala Mohammed, however, called for the separation of the Attorney General's Department from the executive.

Others demanded a more visible Office of the Special Prosecutor in the fight against corruption.

LPG's Kofi Akpaloo rather heaped plaudits on the one-and-half-year-old government, insisting it is on course with its programmes including the 'One-District, One-Factory'.

When the master of ceremony, Lord Commey, called out for the NDC, no body turned up.

Reports say the opposition party is observing the one-week memorial of the death of their 2012 and 2016 Vice Presidential Candidate, Paa Kwesi Bekoe Amissah-Arthur. He died on Friday, June 29.
A minute's silence was observed by the NPP immediately for the immediate past vice president.