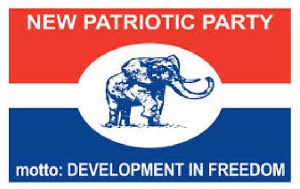 There is a needless rise in the political temperature in Ghana ahead of 2020 general elections. This is based on the position, the cacophony, and the institutionalization of violence endorsed by the National Democratic Congress and its cohorts. The use of the new voters' registration exercise organized by the Electoral Commission as an avenue to breed Chaos, pre-elections tension and violence must end now. The National Democratic Congress' position on violence and tension in our elections is clear. This position must be jettisoned to pave way for a true democratic discourse, a veritable legal argument, and redress rather than its current boisterous agitations for violence and anarchy.
The basis for this statement is against the background of a statement that was issued by Peter Otokunor, the Deputy General Secretary of the NDC which was in support of the reckless and violent statement by the Chairman of the People's National Convention (PNC) Bernard Mornah to the EC pertaining to the EC's legitimate decision to compile a new voters' register.

If the NDC claims to be democratic and bears its name, then it must renounce violence and embrace democratic means for free, fair, and peaceful general elections. It is only when the NDC dissociates itself from insightful, belligerent and violent utterances that the 2020 general elections will be tension free. The causal relations is clear in this purview. It beats all imaginations and baffles minds how the Deputy General Secretary could without caution and shame issue out this, "We wish to state our unequivocal support for the caution Comrade Mornah offered to the EC at the said press conference, for purposes of emphasis, the NDC wholly endorses and subscribes fully to the comments made by Comrade Bernard Mornah."

The above statement is condemnable in our democratic dispensation and growth. The recourse to violence and the endorsement of attacks and chaos is not only anti-peace, anti-democratic process but above all, it is an amateur position in democratic governance. The options exist. The Inter-Party Advisory Committee, IPAC for all issues pertaining to elections to be deliberated and resolved. The NDC has chosen boycotts and affirmation for violence by Bernard Mornah. This is unacceptable and a recipe for needless tension.
Instructively, this years' general elections must be issues-based. We the NPP are ready for that. A comparative analysis of policies and programs of erstwhile Mr. Mahama's government and that of President Nana Akufo Addo must be done by all electorates. The difference is clear. The NPP stands higher and above the NDC if elections are reduced to the above. If this is done, the unequal records of the NPP with the mass support from Ghanaian electorates will maintain President Nana Akufo Addo. In sha Allah!

Ohene Opoku Agyemang

NPP China Branch Deputy Secretary