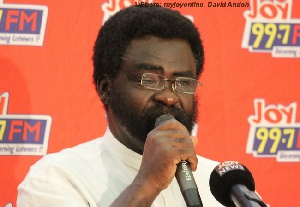 A member of the ruling New Patriotic Party (NPP) has described the party's just ended constitutional amendment procedure as 'unconstitutional' and a disgrace to its leadership.
"We must all agree it was not done in accordance with the provisions of the constitution".

Dr Richard Amoako Baah, a Political Science Lecturer at the Kwame Nkrumah University of Science and Technology (KNUST) told Hello Fm in Kumasi.

"The constitution of the NPP clearly states that, during a constitutional amendment of the party, delegates shall cast their votes with the two-thirds majority of the total vote cast to be able to make a change to the constitution. Not just a simple majority vote", he indicated.

In his argument, Dr Amoako Baah argued that the procedure which his party adopted in determining the majority was constitutionally unacceptable.

At the congress, delegates cast their votes by Yes or No responds. With this many have said it was not proper and not in tune with modern trends.

"You can only determine a two thirds majority when you have been able to count the total number of votes. That is the only way to do so. Therefore the manner in which we did it was unconstitutional". Dr. Amoako Baah said.
"Even a magician can't determine two third of a voice vote" He stressed

Dr. Baah, who is also aspiring for the position of National Chairman, indicated that his assertion is not to attack a particular group of people in the party but to let his people know they did the wrong thing.



At the conference last Sunday at the Heroes Park in Kumasi, Dr. Baah was seen on the podium trying to contest some of the decisions taken but the moderators did not give him the chance.

He later confirmed President Nana Addo Dankwa Akufo-Addo at a point signaled him to do so yet his own people disrespected the president and never offered him the opportunity.