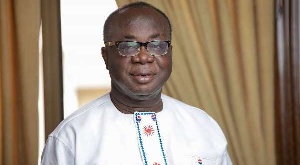 Pollster Ben Ephson believes it will take a miracle for Mr. Stephen Ntim to be elected the national chairman of the ruling New Patriotic Party (NPP) at its national conference this weekend.
Mr. Ntim, who is eyeing the top position for the fourth time running, is contesting the acting national chairman Freddie Blay, who led the Elephant family back to power in 2016.

Mr. Ephson stated Mr. Blay is the obvious choice of the delegates looking at how he has steered affairs of the party and his track record, adding he has the majority support of the party's Members of Parliament.

"I am tipping Freddie Blay to win and most of the members of the party in parliament support him as well," the veteran journalist told Francis Abban on the Morning Starr, Thursday.

According to him, Ntim is at a disadvantage going into the internal contest. Ntim was heard on a leaked tape alleging President Akufo-Addo is impressing on him to step down for a former contender Alhaji Short.

"I am going to win and I will work with the President [Akufo-Addo] after winning, whether he will work with me or not, I don't care, I will work with him. When I win, I will go to him and say Nana, here is the 'silver cup', "I'm coming to work for you, that is what I will do, I'm not going to fight with my president, that is my lifelong political ambition.


"He [President Akufo-Addo] should back off, I am not going to be an Afoko, I'm going to be another chairman to oversee the winning of 2020, and 2024 irrespective of who will be the presidential candidate, that is my commitment to you, I am not fighting for anybody but fighting for my heart's desire," he said on the audio.

Touching on the leaked tape, Mr. Ephson said: "My Ntim made some mistakes he did not rectify. Freddie's promise of buses would give him a hand over Mr Ntim. Unless Mr Ntim comes up with something dramatic, it would be difficult for him to win the chairmanship."

Over 6000 delegates will be voting at the Koforidua Technical University Park on July 7, 2018 for new national executives to lead the party going into the 2020 elections.