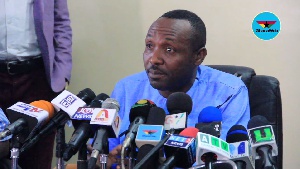 Aspiring candidates who are seeking to contest the national chairmanship position in the upcoming national elections in the New Patriotic Party (NPP) are expected to pay an amount of GHc10, 000.
Candidates vying for the Vice Chairmanship position are expected to pay an amount of GHc8, 000.

Those who will contest as Youth Organizers and Nasara Coordinators will pay GHc3, 000.

All other candidates vying for other positions are expected to pay GHc5, 000. This was disclosed at a press conference by Acting General Secretary, John Boadu at a press conference yesterday [Monday].

Vetting, he indicated, will be held for all aspirants before the vetting results are released on Tuesday May 24, 2018.

He said, those who wish contest for the position of national chairman of the party in the elections, "shall pay to the National Elections Committee, a non-refundable nomination fee of GH¢10,000, with people vying for first, second and third vice chairperson paying GH8,000.


Whilst anyone vying for General Secretary is expected to pay a filing fee of GH6,000, the other positions will go for a fixed price of Gh5,000.



The positions to be contested for including National Chairperson, National 1st Vice Chairperson, National 2nd Vice Chairperson, National 3rd Vice Chairperson, National Secretary, National Assistant Secretary, National Treasurer, National Organizer, National Women Organizer, National Youth Organizer as well as National Nasara Coordinator.