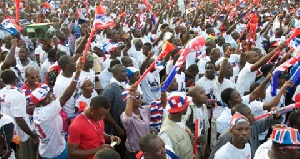 The New Patriotic Party (NPP) has rescheduled the date for its National Delegates Conference since it coincides with this year's Eid ul-Fitr celebrations which fall on June 15, 2018.
The NPP announced last year that it was going to hold its National Delegate Conference in Koforidua in the Eastern region from June, 15 to 17 2018.

A circular by the party Thursday, May 10, 2018 stated that the Delegates Conference has been postponed to 7th July, due to the Eid-Adhal festivities.
This year's congress will elect a new set of national officers who will run the affairs of the party for the next four years.

The congress is being held pursuant to Article 10(2) and (3) of the NPP constitution which mandates the National Annual Delegates to meet at least four weeks after last Regional Annual Delegate Conference.