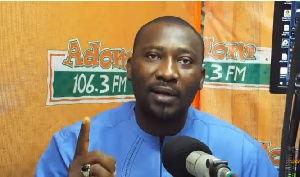 A Communications team member of the National Democratic Congress (NDC), Chief Biney has disclosed that the New Patriotic Party (NPP) denied his party the opportunity to read its solidarity message at the just ended Extraordinary National Delegate Conference.
On Sunday, December 17, 207, the NPP held a conference in the Ashanti Capital where it deliberated and voted on new constitutional amendments proposed by some leaders and members of the party.

The event held at the Heroes Park at the Baba Yara Sports Stadium in Kumasi was very successful though people have complained about how the region received the president at the party's stronghold.

But Mr. Biney, said the NPP has committed a blunder no other political party in the country has done.

According to him, the NPP invited the various opposition political parties in the country to their Delegates Conference which to him was the right thing to do but said the NPP did not allow any to present a message of solidarity

"We the NDC were there to present our solidarity message to our brothers because we were invited. However, something happened which I have never witnessed in the country before. What happened was that, all invited political were not given the opportunity to present their message". He lamented


He further noted that, he was not surprise to see that happen because the NPP knew they (NDC) will let Ghanaians know they have failed to fulfill their promises.



Some members of the ruling NPP have said reading of the message was unnecessary because it was a continuation of what happened in the Central Region a couple of months ago.