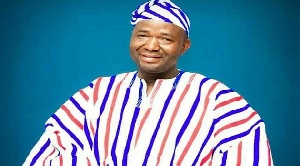 The newly elected Northern regional chairman of the New Patriotic Party (NPP) Mohammed Samba has said he did not receive any financial support from anybody in the polls that saw him defeat the popular Daniel Bugri Naabu.
Bugri Naabu was defeated in the Saturday polls which came two days after he was involved in an accident.

Mr. Samba polled 312 of total votes cast as against Naabu's 116.

About 568 delegates of the New Patriotic Party from 29 constituencies in the Northern Region took part in the elections.

Speaking to Francis Abban on the Morning Starr Monday, the businessman-cum-politician said he has been financing the ruling party for a very long time.

"I'm a businessman and I have supported the party in the Northern Region for long. During my campaign, nobody helped me with a cedi. I funded my own campaign. I didn't buy votes. I won because of my campaign message," he said.
He noted his focus will be to unite the elephant family in the region.

"I'll bring unity to the party. Without Unity, I won't be able to achieve my goals. It is based on unity that I plan visiting Bugri Naabu at his residence today. When I was told he had an accident, I went to the hospital to visit him and halted my campaign".



Naabu towed his mangled vehicle 130km from Larbanga, where it crashed Thursday dawn, to the voting grounds at the Aliu Mahama Sports Stadium.

Prior to the internal elections, the vociferous regional chairman had written to president Akufo-Addo presenting a long list of more than 15 individuals including leading opposition figures accusing them of plots to cause his defeat.