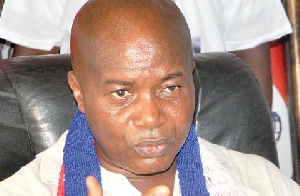 Defeated NPP chairman-aspirant Stephen Ntim is visibly ready to serve the party from his heart, Majority leader and minister for Parliamentary Affairs Osei Kyei Mensa-Bonsu has observed.
Mr. Ntim who was contesting the chairmanship slot for 4th time lost to acting chairman Freddie Blay at the Saturday Congress which elected new national executives for the ruling party.

Mr. Blay garnered 3,021 votes as against Ntim's 2,515. Third candidate Dr Amoako Baah managed a paltry 18 votes.

The Conference, among others, elected John Boadu as General Secretary and Sammi Awuku as National Organiser.

Speaking after the conference, Mr. Suame MP told Francis Abban on the Morning Starr that the NPP is lucky because candidates who lost the polls are willing to serve.

"By and large, the elections went well. Stephen Ntim was one person you can tell was ready to serve the party from the bottom of his heart but he is ready to support even after the loss," he said.


The Majority leader also reiterated the NPP's hope to stay in power beyond 8 years.

" We need a very symbiotic relationship among the party, the MMDCEs and the government. When there is a strong relationship, we will be able to go far I don't think if we stay in power for 4 years or 8 years, we will be able to do much but staying in power for more than 8 years we can get our names in the history of this country. That is what we seek to do".