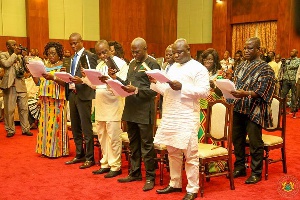 President Nana Addo Dankwa Akufo-Addo last night swore in 10 deputy ministers at the flagstaff house charging them to support their ministers in realizing the vision he has unveiled for the country.
The 10 deputy ministers who were vetted and approved by parliament include; Solomon Boah, Member of Parliament (MP) for Bunkpurugu for Northern Region; Amidu Ishak, Upper West Region; Adongo Fuseini, Upper East Region; Thomas Adjei Baffour, Central Region and Elizabeth Agyemang, former MP for Oforikrom for Ashanti Region.

The rest are Gifty Eugenia Kusi former MP for Tarkwa/Nsuaem, Western Region; Elizabeth Sackey, former MP for Okaikoi North, Greater Accra; Stephen Blagodzi, Volta Region; Joseph Tetteh, Eastern Region and Evans Opoku, Brong Ahafo Region.
The president said "I will not countenance any acts of disloyalty or subversion of your respective Ministers, for I will take such acts as disloyalty to me, and, by inference, disloyalty to the Party and the State.

"Any Deputy, who thinks the route to advancement lies in your ability to subvert or undermine your Minister, will be sadly mistaken. You will not profit from that conduct in Akufo-Addo's presidency."