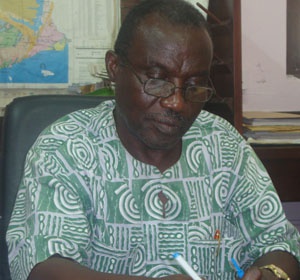 A former lecturer of the University of Ghana, Dr. Ebenezer Kofi Hayford is urging Ghanaians to fiercely resist moves by the New Patriotic Party (NPP) government, led by President Akufo-Addo to use the Heritage Fund to finance the Free Senior High School programme.
According to him, the Heritage Fund for whatever purpose must not be used by any government since the fund was for the unborn generation.

President Nana Addo Dankwa Akufo-Addo announced that the Free SHS promise will take effect from September this year noting that government will fund the cost of all who qualify.

The Ghana Heritage Fund was established in 2011 by Section 10 (1) of the Petroleum Revenue Management Act, 2011 (Act 815). It is meant to serve as an endowment fund for future generations. It is not supposed to be touched until after 15 years of its establishment. Each year, eight percent of oil revenue is deposited into the fund.

It is estimated Ghana will need about $600 million per annum to fund and implement the Free Senior High School policy, while as of December 2016, the Heritage Fund had accrued US$262.57 million, making up eight percent of total revenue from oil proceeds.
Speaking on the Gold Power Drive on Radio Gold with Samuel Eshun, Dr. Ebenezer Hayford said the Heritage Fund is a monument for the future generation and urged Ghanaians to resist any attempt for its usage.

"We must resist and resist because it (Free SHS) is not sustainable. It has no basis and it is going to end in chaos. What happens if the NPP amend the act and when a different party comes and do otherwise where are we going?" He asked.

Dr. Ebenezer Kofi Hayford further argued that the free SHS policy could cost the country GHS3.6 billion annually.

He is, therefore, calling on Civil Society Organizations, the clergy and well-meaning Ghanaians to prevent the NPP from using the Heritage Fund to execute the Free SHS programme.