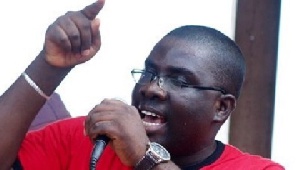 New Patriotic Party (NPP) National Organizer hopeful, Sammi Awuku has taken his campaign train to the Upper West, Upper East and Northern Regions Of Ghana.
The inspirational National Youth Organiser who was instrumental in the party's 2016 electoral victory is expected to spend some seven days convincing delegates in the northern regions on why his bid for the National Organiser be granted.

On Sunday he spent the day campaigning in the Upper West Region. Visiting the Wa Central, Wa East and Wa West, Again he interacted with delegates from Sisala East and Sisala West, Lawra and others.

He is expected to hit the Upper East on Monday targeting the Bawku, Navrongo and Bolga zones of the Region.

Sammi Awuku who has been Heavily tipped by many pollsters to win the election hands down, has also been keen on transforming the electoral fortunes of the party, making it an election-winning machine.
Mr. Awuku picked nominations forms on Wednesday morning from the NPP headquarters at Asylum Down having gone through the required processes, including making payment for the forms.

Having rounded his campaign in the Ashanti region just last week, Where he received massive support from the party's delegates in the region.

While in Ashanti Region, Mr. Awuku made known that he would work closely with all the party's organizers and the grassroots members, who are very important, regarding the party's electoral fortunes.

He promised to help improve the NPP by organizing a series of training programmes for party organizers to sharpen their expertise and capabilities to make them more efficient.