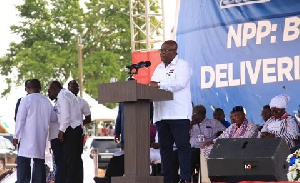 President Nana Akufo-Addo has stated that the suspension of Paul Afoko as the Chairman of the NPP as well as General Secretary, Kwabena Agyapong and Second National Vice Chairman, Sammy Crabbe paved way for the NPP to gain power in the 2016 election.
Addressing delegates at the 26th National Delegates Conference in Koforidua, the president commended the leadership of the party and the council of elders for taking the tough decision to bring sanity into the party.

The president was full of praise for the Chairman of the NPP council of Elders, C.K Tedam for his intervention to resolve issues within the party.

"Under CK Tedam, we took the decision to suspend some people, and that helped the party to win the elections," President Akufo-Addo said.

He further charged the delegates and party supporters to ensure that the party is never confronted with party wrangling and issues of allegations against one another.

"We must make sure that the events that happened after our delegates' conference in Tamale never happen again."

President Akufo-Addo urged the delegates to elect leaders who would propel the NPP to power come 2020.
"We have the daunting task of organising our party for the 2020 elections. We need the right people to lead us to victory."

The president noted that the current leadership of the NPP rose to the task, kept their focus and led the party to its victory; he commended them for working hard to ensure that the NPP won the 2016 elections.



Background to suspension of Afoko et al

The three executives of the New Patriotic Party, Paul Afoko, Sammy Crabbe and Kwabena Agyapong were suspended in 2015.

Paul Afoko who was the National Chairman of the NPP was suspended unanimously by the National Executive Committee of the party upon allegations from supporters that he was working against the party prior to the 2016 general elections.
He disagreed with the committee and challenged the decision in court but he was dismissed.

General Secretary, Kwabena Agyapong and Vice National Chairman, Sammy Crabbe were subsequently suspended for challenging the authority of the party in the suspension of Paul Afoko.