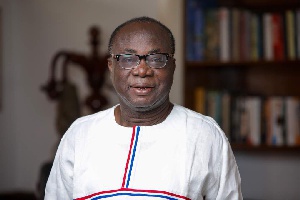 Newly elected National Chairman of the New Patriotic Party, Freddie Blay has sent a heartfelt message thanking members for the endorsement he received at the Delegates Conference in Koforidua assuring them he will never let the party down.
In a press release, Mr. Blay said he will work closely with his executives and make sure to strengthen the grassroots organisation of the party so the party can finance itself to reduce influence peddling and over-reliance on external authorities.

He thanked President Akufo-Addo, Dr. Mahamudu Bawumia and elders of the NPP for the overwhelming support shown at the Delegates Conference and further expressed his gratitude to Stephen Ntim and Dr Richard Baah for conceding defeat.

Freddie Blay beat his closest competitor, Mr Stephen Ntim by polling 3021 votes as against Ntim's 2515 votes. Dr Richard Amoako Baah polled 18 votes.

Read below the full statement

I THANK YOU ALL- FREDDIE WORSEMASO BLAY

On my own behalf and on behalf of my Campaign team I wish to express my sincerest gratitude to first and foremost to his Providence for a successful delegate Conference which was incident free from beginning to end.

I wish to also thank you from the bottom of my heart all delegates who made it to Koforidua for the conference.


That the NPP has spoken and my victory is the NPP's victory. I pledge to do my best and not let the Party down.

I promise alongside with my Executive Members to strive to the strengthen the grassroots organisation of the Party and to enable the Party self financed itself to reduce influence peddling and over reliance on external authorities.

I will work closer with you all over the Regions and seek your cooperation in management of our great Party at all levels.

Let me also take this opportunity to thank President Nana Addo Danquah Akuffo Addo, Vice President Dr Muhammadu Bawumia and Mr C.K Tedam, Chairman of the Council of Elders. Let us work together to maintain unity, peace and tranquility and discipline to back our government to deliver prosperity to all Ghanaians.

My sincerest gratitude to the Elections Committee, led by Most Rev Samuel Asante Antwi Rev Dr Asante Antwi and his team for the yoo man job for vetting and conducting a successful Elections, the organising Committee and all those who through various ways ensured we had a very successful conference especially the Eastern Regional Executives led by Chairman Kissie and the Regional Minister Hon. Kwaakye Daffour for hosting a great Conference.

I take this opportunity to thank Mr Stephen Ntim and Dr Richard Amoako Baah for giving me a very stiff competition and for magnanimously conceding defeat. You did your best but the delegates have decided and I hope we will work together to build a stronger and better Party for the task ahead in 2020.
Last but not the least, I want to thank my Campaign team for a good job Done.

My gratitude goes to

• Mr Sylvester Tetteh. (campaign Manager)

• Mr Richard Nyamaah (Spokesperson)

• Mr. Joe Forson (Strategist)

• Mr. Mohammed Sadat

• Mr. Charles Amoo
• Adepa Sarfo

• Madam Hermaa Maizer

• Madam Janet Bebi

• Yaw Preko

• Yvonne Sarpong

• Samuel Bryan Buabeng

• Team Blay Members
And all those who contributed financially and through other means to the Campaign whose names I cannot mention. I am most grateful

SIGNE

FOR

CHAIRMAN FREDDIE WORSEMAO BLAY