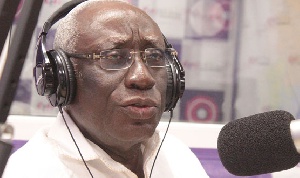 Former head of the national identification authority Professor Ernest Dumor has said Ghana does not need a new Voters' register going into the 2016 elections.
According to him, what is required is for the electoral commission to open up the register for auditing and a possible correction of other anomalies that may be found in it.

The creation or otherwise of a new voters' register ahead of next year's election has become a matter of major controversy as the leading political parties in the country have taken divergent and entrenched views. While the main opposition New Patriotic Party and its protégés insist on an entirely new register, the ruling National Democratic Congress (NDC) believes the current register is credible enough for the polls.

Speaking to Nii Arday Clegg on the Morning Starr Tuesday, the former staff of the EC said although the EC has a credibility problem in his opinion, the current electoral roll must not necessarily be recreated.
"First of all, there is no perfect voters' register anywhere. And I have said all the time that you make the best out of what you have. Even if we were to spend money creating a new register, we will have the same problem.

"…With all due respect, we have a credibility problem as far as the EC is concerned so we have to find a way to win back that trust and confidence that the electoral commission had in 1993. So even though we are close to election, there is something that the EC will have to work on," he stated.

He continued: "I don't believe personally, that we need to start a new register. My view is that we should open the register up for exhibition and begin correcting some of the difficulties and entries that are unacceptable and then all the other processes that will lead us to a peaceful elections; example, which institutions will be involved in the printing of ballot papers".