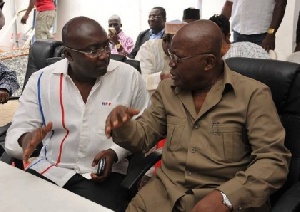 Sat, 16 Jan 2016 Source: peacefmonline
The 2016 flagbearer of the New Patriotic Party (NPP), Nana Akufo-Addo and his Running Mate, Dr. Mahamudu Bawumia have been described as lesser gods that the opposition party worships, including a political science lecturer, Dr. Amoako Baah.
The above assertion was by the Deputy General Secretary of the National Democratic Congress (NDC), Koku Anyidoho.

His description comes on the heels of Dr. Richard Amoako Baah's remarks that President Mahama's media interaction at the Flagstaff House on Tuesday was meant to divert public attention from the voters' register saga.

The Head of the Political Science Department of the Kwame Nkrumah University of Science and Technology (KNUST) had earlier stated that President Mahama intentionally and hurriedly arranged the press conference to prevent the media from reporting on matters arising from the voters' register, the EC boss and other pertinent issues that had been agitating the minds of Ghanaians.

But Koku Anyidoho on Okay Fm's Ade Akye Abia Morning Show jabbed the political scientist, saying Dr. Baah cannot do simple trend analysis to know that the beginning of every year since the era of former President Kufuor, the various Presidents have often availed themselves to journalists to ask questions that demand answers.
He wondered why the NPP want to force every Ghanaian to stop talking about anything else and only talk about things that interest their lesser gods.

"Nobody is listening to the NPP and their drumming of the voters' register, but they think people are listening to them so because of that nobody should talk about anything else in this country? As there is 6 percent excess power reserved at GRIDCo, because of NPP's fake claim of Togolese register, we shouldn't talk about the success that NDC has chalked?" he chided.

He pointed out that the opposition NPP simply wants to stand in one place as lesser gods, and expect to be worshipped; which Ghanaians are not prepared to do.

"If Akufo-Addo and Bawumia have been turned lesser gods for the NPP and Dr. Amoako Baah, they should worship them. I won't worship Akufo-Addo and Bawumia, and so if Amoako Baah wants to worship them, that is his own business, but he shouldn't compel Ghanaians to be wasting their time on useless things," he jabbed.
Source: peacefmonline