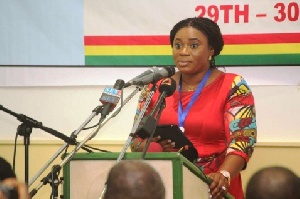 Convener for the pressure group, Let My Vote Count Alliance, David Asante at a press conference in Accra on Wednesday responding to the Electoral Commission on the voters register, has said that the commission has ignored the report by the five-member panel that sat on the issue at Alisa Hotel in Accra.
He accused the EC of lying to Ghanaians that it was going to adhere to the report by the panel. According to Mr. Asante, the Let My Vote Count Alliance and its allies have so far been vindicated by a report that over six hundred thousand ghost names are on Ghana's voter register.

But it wonders why the EC is still on its stance of holding on to the existing documents which is flawed.

He challenged the EC to consider what the five-member committee recommended which are as follows; validation, auditing, cleaning and DE duplication of the existing register, before it may be able to deal with the issues raised over the credibility of the document.

He further pointed out that, the Electoral Commission went for an auditor whose work had ended Kenyan's elections in the Supreme Court without informing the political parties in Ghana.
Mr. Asante noted the credibility of the auditor employed by the EC is questionable considering it's track record.

The LMVC doubt how credible the Mrs. Charlotte Osei led EC can handle electoral processes, he added.

The group says until the right things are done, they will not rest but keep on fighting their good course for the sake of Ghana.