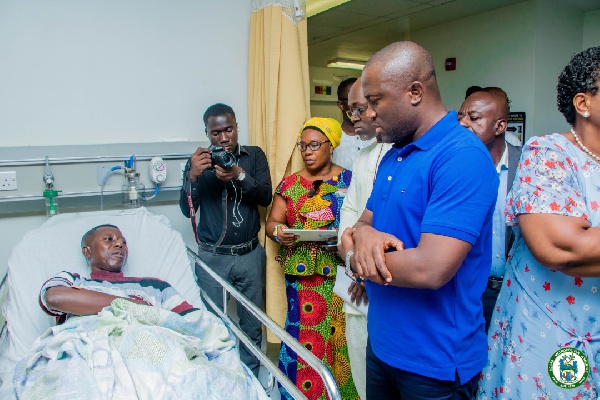 The Mayor of Accra, Mohammed Adjei Sowah, has admonished all road users to be responsible and obey road traffic regulations in order to prevent road traffic fatalities and injuries in the city.
According to him, road safety is a shared responsibility and everybody has a part to play to ensure zero fatalities and injuries.

Mayor Sowah said this on Sunday at an event held at Greater Accra Regional Hospital to mark this year's World Day of Remembrance for Road Traffic Victims (WDR) under the theme: "Roads Have Stories."

The day, initiated by road victims in 1993 and adopted by the UN on 26th October 2005, is commemorated on the third Sunday of November each year to remember the many millions killed and injured in road crashes.

"Drivers must desist from the act of drink driving, put on their seat belts and reduce their speeds. The motor rider and his passenger must always wear their helmets, pedestrians are also cautioned to use the walkways, cross at pedestrian crossings and wait for the signals before crossing the road, "he said.

He stressed that road traffic crashes were "highly preventable" adding that available statistics do not paint a pretty picture of road safety in the city of Accra.

He charged personnel of the Motor Traffic and Transport Department (MTTD) of the Ghana Police Service to intensify enforcement of road traffic regulations to ensure the general safety of pedestrians and other road users in the City of Accra.
He pointed out that the Accra Metropolitan Assembly has instituted measures to help reduce road crashes and fatalities in the city adding that with the help of the Bloomberg Philanthropies for Global Road Safety (BIGRS), the city had launched a Road Safety Strategy, a road safety report and currently implementing a pedestrian safety action plan.

He mentioned the ongoing road safety enhancement works at the Lapaz Intersection as well as the formation of a task force to intensify enforcement on Helmet use, Seatbelt and child restraint non-use, drink driving and speeding among others.

He also shared his experience as a road crash victim and called for more education to help change behaviors in order to reduce the carnage on our roads.

The Mayor later donated assorted items which included packs of Milo, Milk Powder, Bottled water, Toilet Rolls, Detergents, Sugar, boxes of Lipton and Biscuits to the road crash victims on admission at the Greater Accra Regional Hospital popularly known as the Ridge Hospital.

Madam Irene Messiba, Director of Policy Planning, Monitoring and Evaluation at the Ministry of Transport, in a remark disclosed that available statistics on road traffic crashes and casualties as at 30th October this year indicate that, 11,159 crashes have so far been recorded involving 18,063 vehicles and 3,156 motorcycles resulting in 1,921 deaths and 11,130 injures.

Ing May Obiri Yeboah, Executive Director of the National Road Safety Commission also commended the AMA-BIGRS for their interventions to reduce road fatalities and injuries in the city and urged other Assemblies to emulate such initiatives.