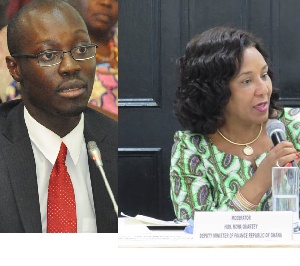 The former Deputy Finance Minister Mona Helen Kabuki Quartey has stated that the 2017 budget read by the Finance minister Ken Ofori Atta is not deceptive contradicting her colleague Cassiel Ato Baah Forson who described it as 'deceptive' and 'populist' which will cause future problems for Ghana.
She admitted its populist but disagreed that it is 'deceptive' as propagated by her colleague former Deputy Minister of Finance saying there is hope in the budget.

'Well I don't think that the budget is deceptive, if its populist, I agree with that, in terms of deceptive no. I think that this budget thus seeks to press on, but am just saying it must be realistic. It's a little hollow on the actual strategy in increasing revenue and expenditure control…the budget has a number of contradictions,' she stated.

Madam Mona indicated that the country is on track in achieving fiscal consolidation and subsequent growth.

Speaking on Ultimate Breakfast Show hosted by Lantam Papanko, she said the minister refused to be realistic in his presentation saying it's just to score cheap political points.

She said most of the initiatives to be embarked on by the Akufo-Addo's government are built on policies by the erstwhile Mahama-administration remarking that the Zongo Development Fund (ZDF) and Infrastructure for Poverty Eradication are good ideas.
According to her, some of the taxes to be abolished by the government are needless and will rather create a backlash.

The former Deputy Minister expressed fear that the cuts in revenue will affect the country's market which borrow heavily from the international market.

'We may see a mid-year review that may backtrack on some of the things the minister mentioned especially in the area of revenue. Clearly they are building on some of the things former President Mahama's government begun. I think that in trying to fulfil promises or meet expectations, they threw in some of initiatives that are not useful. And may rather create a backlash on some of the tax cuts or abolishing certain taxes… In the short time they will find out that they will need that revenue, but how do you go back? I would say managing expectation is very important for us to be able to achieve our medium term strategy. There is nothing new in the budget expect that throwing up promises to make people feel good, it is a feel good budget. There weren't much new initiatives, especially in the area of expenditure control,' she said.

She said she will be looking out for measures put in place by the government in controlling expenditure and increasing revenue.