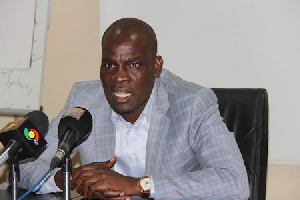 The 2017 budget statement of the Akufo-Addo government delivered by Finance Minister Ken Ofori-Atta Thursday is a betrayal of the trust Ghanaians have reposed in the government, Minority leader, Haruna Iddrisu has said.
According to him, the budget statement is visionless and full of fabrications.

"I'm sure the Ghanaian people are expecting some further announcement outside the budget and outside of the SONA [State of the Nation Address] as to the intentions of government to lower the electricity tariffs for them. This can only mean a betrayal of the significant trust that the Ghanaian people invested in them," he said.

Former deputy Finance Minister, Cassiel Ato Forson on Thursday echoed Mr. Iddrisu's concerns describing the budget as misleading and bereft of specificity

"This budget is very deceptive. It is populist. It doesn't preserve the medium term objective of this country," Ato Forson, said of the budget in an interview with the media.

He warned that Ghanaians should brace themselves for a difficult medium term challenges ahead of the country.

Presenting the abridged version of the government's 2017 budget statement before Parliament Thursday, March 2, 2017, Mr. Ken Ofori-Atta announced the expulsion of several taxes it labeled as irritants.
"A number of tax measures have been introduced in recent years in an attempt to deal with revenue shortfalls. Some have proven to be nuisance taxes," he said.

According to him, they [taxes] have no revenue yielding potential, burdening the private sector and the average Ghanaian.

The taxes abolished, he said are; The 1% Special Import Levy – Kayayei market tolls – 17.5% VAT/NHIL on financial services – 17.5% VAT/NHIL on selected imported medicines that are not produced locally – 17.5% VAT/NHIL on domestic airline tickets – Duty on imported spare parts – 5% VAT/NHIL on Real estate sales – Exercise duty on petroleum.

Also, he said corporate income tax will be progressively reduced from 25% to 20% in 2018, 17.5% of VAT/NHIL will be replaced with 3% flat rate for traders as well as Tax credits and other incentives for businesses that hire young graduates from tertiary institutions – Tax incentives for young entrepreneurs and Reduce special petroleum tax rate from 17.5% to 15%.

Mr. Ofori-Atta said the cuts are part of "our commitment to re-energize the private sector, the government has decided, as pledged, to review these taxes to provide relief for business. "