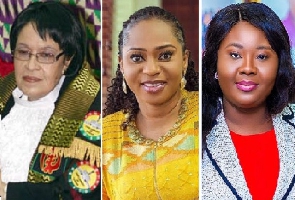 Every March 8 is International Women's Day, an annual date set aside to celebrate the strides of women in all spheres of life and to also deepen the calls for greater equality and equity in terms of gender balance in society.
Politics and parliament specifically has been identified as one of the areas where women have made significant strides since the First Republic, yet a lot needs to be done to level the playing field for women to viably compete.

The current Parliament, birthed since 1993, has seen a number of women breaking the glass ceiling relative to specific portfolios relative to parliamentary business and qualification.

GhanaWeb throws the light on three women who are history makers in the parliamentary politics of the Fourth Republic.

Joyce Bamford-Addo, first female Speaker

Joyce Adeline Bamford-Addo was a Ghanaian judge, barrister, and Speaker of Parliament from 2009 to 2013.
She was before becoming Speaker, the first female justice of the Supreme Court of Ghana serving from 1991 to 2004 as well as the first woman in the West Africa sub-region to be elected Speaker of Parliament.

Bamford-Addo was born on 26th March 1937 in Accra. She started her education in Cape Coast Catholic Schools, namely, St. Mary's Boarding School, and then went to Ola Boarding School. She then proceeded to the Holy Child School, also in Cape Coast for her secondary education.

Determined to acquire the requisite knowledge to ensure success in life, Speaker Bamford-Addo joined the prestigious Inner Temple in the UK for her Law studies. This was with a strong desire to immerse herself in her law studies. She was called to the English Bar in 1961 and practiced in the UK for a year before returning to Ghana. She was subsequently called to the Ghana Bar in 1962.

She is currently on retirement.

Sarah Adwoa Safo
Between 2017 and 2021, Sarah Adwoa Safo served as the deputy Majority Leader in Parliament, becoming the first woman to serve as second-in-command of a caucus.

Till date, women have hardly made it onto the front benches except for the ceding of one of the deputy Majority/Minority whips to a woman on both sides of the house.

Adwoa Safo, born 28 December 1981 is a lawyer and politician, who is the New Patriotic Party Member of Parliament (2013–2020) for the Dome Kwabenya Constituency of the Greater Accra Region.

She obtained an L.L.B from the University of Ghana, B.L from the Ghana Law School, and an L.L.M from George Washington University U.S.A.

She has previously served as Minister of State in charge of Government Procurement; under Nana Addo Dankwa Akuffo Addo and until last year as Minister of Gender, Children and Social Protection.
Francisca Oteng-Mensah

Francisca Oteng-Mensah became known as the youngest parliamentarian of the fourth republic of her election in 2016. She is currently the member of parliament for the Kwabre East Constituency on the ticket of the New Patriotic Party.

Francisca, who is currently deputy Minister of Gender, Women and Social Protection, was born at Aboaso Hospital at Mamponteng, Ashanti Region on 14 February 1993.

She is a daughter of Mrs. Joyce Oteng and Dr Kwaku Oteng, a doctor and a businessman who is the C.E.O of the Angel Group of Companies.

On the achievement of these three women, GhanaWeb wishes all women a Happy International Women's Day.
Watch the new episode of The Lowdown below:



You can also watch this episode of People & Places on GhanaWeb TV here:



SARA