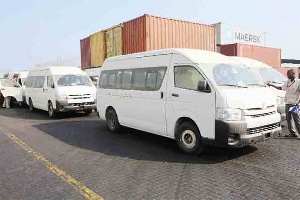 Former Defence Minister, Dr. Kwame Addo Kufuor has challenged persons who feel Acting Chairman of the governing NPP engaged in any corrupt act in the purchase of the 275 buses for the party to petition the special prosecutor, Martin Amidu
Mr. Freddie Blay took a $11.4 million loan facility from the UMB Bank to buy the buses which have sent tongues wagging.

Mr. Blay who is contesting for the chairmanship position of the New Patriotic Party's delegates' conference being held in Koforidua On Saturday, has been accused by his close tender of engaging in vote buying.

Some anti-graft civil society groups and the opposition National Democratic Congress have waded into the issue, and want Mr. Blay who is the board chairman of the Ghana National Petroleum Corporation investigated on how he was able to raise the money to purchase the buses.

Mr Blay has been reported to have made a down payment of $3 million and taken delivery of the first 100 buses.

But Dr. Addo kufuor who is the board chairman of the Social Security and National Insurance Trust (SSNIT) believes Mr. Blay is being accused unfairly.
He sees the Acting Chairman as a forward thinking person who is applying his strategy the right way.

The 275 buses for the 275 constituencies of the party arrived in the country days to the NPP's conference, fuelling the allegation of vote-buying

But Dr. Addo Kufuor emphatically shot down the allegation of vote buying, explaining that every politician knows what is called "strategy" therefore "there is nothing criminal" about the timing.

"He is a far sighted politician, strategic in thinking, there is nothing wrong with it," he told TV3's Kwakye Afreh Nuamah at the conference ground on Saturday.

He is also daring persons hanging corruption allegation on Mr. Blay to pursue the case with the special prosecutor who is clothed with the power to fight corruption.
"Let's go to Martin Amidu, I am sure he will find that there is nothing wrong… if anybody suspects something has gone wrong, petition Martin Amidu," he insisted.

The former minister however discounted perception that Mr. Blay is the president's favourite candidate.

Also contesting for the chairmanship position are Mr. Stephen Ntim, who is contesting for the fourth consecutive time, and Dr. Amoako Baah, a political scientist.