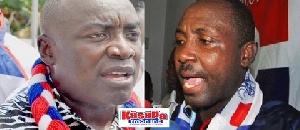 Pollster Ben Ephson is convinced that even if the governing New Patriotic Party (NPP) lifts the suspension against its embattled suspended General Secretary, Kwabena Agyapong ahead of the party's congress in 2018, he (Agyepong) cannot beat Acting General Secretary, John Boadu in a contest.
According to him, John Boadu having played an acting role and led the party into a resounding victory during the 2016 elections will be a tough candidate for Mr Agyepong to beat any day.

The National Executive Committee (NEC) of NPP in September 2015 upheld the decision of the Disciplinary Committee to suspend indefinitely Kwabena Agyapong, along with the National Chairman, Paul Afoko; 2nd Vice Chairman, Sammy Crabbe, for working against the party's chances of winning the 2016 elections.

Two years after the suspension, some constituency and polling station executives of the NPP have petitioned the party's hierarchy for the reinstatement of Mr. Agyapong.

They maintain that unlike Afoko and Crabbe, Agyapong did not seek legal action and that is a proof of his loyalty to the party. The petitioners argued that, his conduct towards the party, even after his indefinite suspension in 2015 and his monetary contribution to the party's campaign ahead of the 2016 general election, was evidence of his unwavering loyalty.


Mr Agyepong in an interview during the NPP extraordinary National Conference in Kumasi on Sunday said he misses his job, and described his two years suspension as unconstitutional.

But speaking to sit-in-host Kwaku Owusu Adjei on Anopa Kasapa on Kasapa FM Monday, Ben Ephson advised Kwabena Agyepong to get his petitioners to send a petition to the National Executive Council to be studied in a view to seeking his reinstatement.



"Holding press conferences calling for the reinstatement of Kwabena will not hold. Kwabena's suspension was not based on a press conference, I think that Kwabena should go through the reverse motion. Get people to send a petition to the National Executive Council to look into it, with the view to restoring him. The petitioners instead of having press conferences, they should go through this process and let's see what the outcome will be. Because so far of the three suspended national executives, people believe for whatever wrong Kwabena committed he's been punished for it. Having a press conference is not the right way to go."