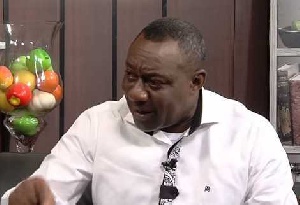 Former Member of Parliament (MP) for Bantama Constituency, Henry Kwabena Kokofu, has indicated that if President Nana Addo Dankwa Akuffo Addo's has any thought upon assuming office, it will be centered on how to clear the 'huge' debt incurred by the Mahama led administration.
Apart from that, he is sure the President is focused and will deliver on the promises he made during the electioneering campaign.

The former MP's statement was a response to claims by Alhaji Bature, Managing Editor of The Alhajj Newspaper that the President has a mournful heart on how to execute his promises.

The Editor, on Monday January 9th 2017 said Nana Addo having won the 2016 General Elections to become the President is thinking of how to deliver on some of his campaign policies since most of them are too ambitious to be achieved.

To be specific, he was skeptical about how the NPP will manage the Millennium challenge's US$500 million which is given to the country on condition that the Electricity Company of Ghana (ECG) charges realistic tariffs and also see to it that the company is privatized. The NPP kicked against this policy strongly whiles in opposition.

Meanwhile, speaking on UTV's Adekye Nsoroma on Monday, Henry Kokofu said that is not the headache of Nana Addo because the NPP government can always go back to renegotiate on past issues, saying if they will face a challenge at all, it will be the debt incurred for the nation by the previous administration.
He admitted that the loans which have added up to become a 'huge' debt on Ghanaians were used for developmental projects but indicated that those projects cannot pay back the loans.

"Yes, they were used for projects but those projects cannot pay back the loans in a short while or pay back at all. For all you know they monies that come out from the projects are intangible", he stated.

His worry was that in paying back those loans, Ghana pays GH¢10 billion every month as interest "so the tax government collects for developmental works is competing with the interest we pay as a country".

Henry Kokofu thus assured Ghanaians that government will sit on the issue at hand and re-strategize on how to service the loans while delivering on its promises.