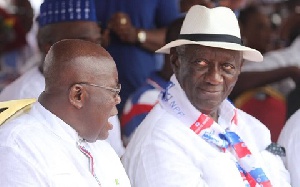 Former President John Kufuor has endorsed President Nana Akufo-Addo's modus operandi in fighting corruption.
The President has repetitively said his government will thoroughly investigate every corruption allegation including those against his own appointees and ensure each is prosecuted based on evidence adduced.

He has also promised that the office of the Special Prosecutor will soon come into effect before the end of the year to independently go after corrupt officials devoid of witch-hunting.

At the governing New Patriotic Party's national delegates' conference in Cape Coast, Central Region, Nana Akufo-Addo said: "Let me assure you; every allegation of corruption against any member of my government will be investigated by the law enforcement agencies." He added that: "Those who make the allegations should be prepared to support them with evidence" because "I will not supervise over a government that supports corruption."

The president also said he has "instructed the law enforcement agencies to investigate every allegation of corruption in my government".
Speaking to journalists about the president's way of fighting corruption, Mr Kufuor told journalists in Cape Coast that: "The President's approach, I believe, is the right approach. After all, he is a lawyer and you don't convict people before you've even investigated and tried them. So, the president's approach is the right one. The most important thing for all of us to look forward to is that whoever is appointed as the Special Prosecutor will be the type of good person we are talking about. Get the right person in the right place and get solutions."