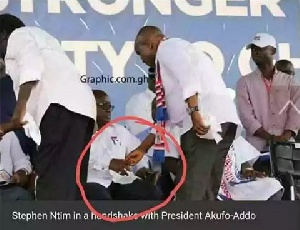 There was controversy during the National Delegates Congress of the New Patriotic Party (NPP) after President Akufo-Addo appeared to snub Stephen Ntim during a handshake.
Mr. Ntim contested for the position of National Chairman against Freddie Blay, in what was one of the most tensed internal elections in recent years.

In the end, Mr. Blay emerged victorious after polling 3021 of the total votes cast of 5563, whiles his contender managed just 2515.

However, there was a moment of controversy prior to the voting when both delegates took turns to shake hands with President Akufo-Addo.

In a photo that has gone viral on social media, the President is captured smiling whiles shaking hands with Mr. Blay but quickly frowned when it was the turn of Mr. Ntim.

This was after the President openly advised delegates to vote for persons who contributed to the NPP's victory in the 2016 elections.
Both Freddie Blay and Stephen Ntim clashed many times in the lead up to the party's National Delegates Congress, labeling all sorts of accusations against each other.

Mr. Ntim constantly accused Mr. Blay of "vote-buying" after his opponent acquired some 275 mini-buses for all of the party's constituencies.

However, Mr. Blay still managed to stand tall after winning the elections to become the NPP's substantive National Chairman.

In all, close to 6000 delegates across the country made it to the national congress, which was held at Koforidua in the Eastern region.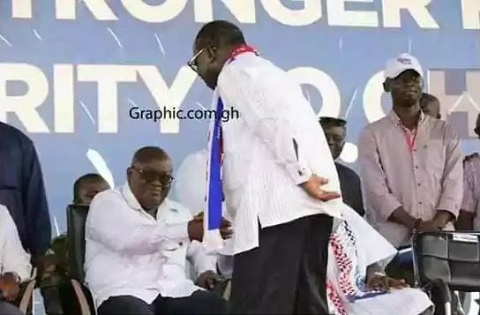 Below is the full list of elected NPP executives:

1. Freddie Blay: Chairman

2. Rita Talata Asobayiri: 1st vice Chairperson

3. F. F. Anto: 2nd Vice Chairperson

4. Michael Omari-Wadie: 3rd Vice Chairperson
5. John Boadu: General Secretary

6. Sammi Awuku: Organizer

7. Abankwah Yeboah: Treasurer

8. Henry Nana Boakye: Youth Organizer

9. Kate Gyamfua: Women Organizer
10. Abdul-Aziz Haruna Futah: Nasara Coordinator