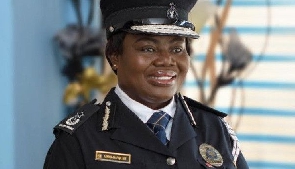 Immediate past Director-General of the Criminal Investigations Department (CID) of the Ghana Police Service, COP Maame Yaa Tiwa Addo-Danquah (Mrs) has described her tenure as the head of the investigative body as a fascinating and breath-taking one.
She expressed gratitude to personnel of the department for the support they gave her during her time in office which spans within 26 months.

"It has been fascinating and breath-taking within this period especially last week considering the messages and phone calls I have received from some of you.

I must say it has been full of emotions and mixed feelings for me but how can words alone express my sincere gratitude to all of you? How do I make you understand how much I want to express my gratefulness to all personnel of the CID? It has been such an amazing experience working with you to serve God and Country. I hope this simple thank you message of mine finds its way into your hearts and memories just as yours have found their ways into mine," she stated in a thank you message to the personnel of the CID.

COP Addo-Danquah who has been reassigned to the Welfare Department of the Ghana Police Service urged personnel of the CID to continue to give the same support to her successor COP Ken Yeboah who she handed over to on 15th January 2020.
"I urge you to extend the same love and support to the new DG/CID you offered me, I am of a strong conviction that you will achieve a lot more together with him. It is actually time not to relent in your efforts, commitments and dedications to duty," she appealed.

COP Addo-Danquah is the first female to head the CID. Her tenure as Director-General became controversial over her outfit's handling of the kidnapping of some girls for Takoradi girls.

She has been credited for a number of transforms within the Criminal Investigation Department (CID) including an affiliation with the University of Cape Coast Department of Forensic to enable investigators upgrade themselves in crime investigations.