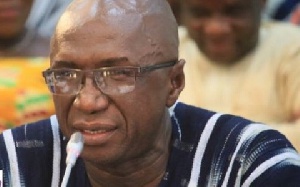 Government's involvement in resolving the Bimbilla chieftaincy dispute would be necessary despite its declaration that it would not meddle in the matter, Amadu Mustapha, spokesperson of the family of the late Bimbilla chief, Naa Salifu Dawuni, has said.
Interior Minister Ambrose Dery stated about a fortnight ago that government would not be mired in the Bimbilla chieftaincy dispute in the aftermath of fresh clashes in the town that resulted in the death of at least 10 persons with many scores injured.

Speaking in an interview with Chief Jerry Forson, host of Ghana Yensom, on Accra100.5FM in connection with government's stance, Mr Mustapha said: "That is a political decision, so who am I to question that?
But we are saying that it has to take the efforts of government to facilitate any institution that is out there to help engage the parties in dispute as a first step to arrive at a consensus. So I think that government's efforts at getting us a party to do the mediation is important that way and I cannot take that to mean interference.

"If government says it doesn't want to meddle in chieftaincy matters that is a political decision that nobody can question, but it is also fair that government leads the process of engaging a mediator so that the parties in dispute can come together and iron out their differences."