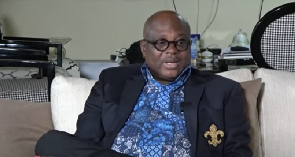 Businessman and politician, Kojo Bonsu, has revealed that he will jump at the opportunity to be John Dramani Mahama's vice should it be offered.
The contender in the just-ended NDC presidential primaries stated that he is not perturbed about his loss in the primaries hence, will do anything and everything possible to see Mahama win the 2024 polls.

The former Mayor of Kumasi was speaking to Daniel Oduro on The Lowdown on GhanaWeb TV.

In the interview, the politician said that he will be glad to work with the flagbearer of the NDC, John Mahama if he believes that he is fit to be his running mate.

"His Excellency John Dramani Mahama has the prerogative and if he believes that Kojo Bonsu can do it, why not? We are united and I'm going to give him my all to support him well.

"So, when he chooses me as his vice, bingo! And we are going to work in tandem to make everything work very well," the politician said.

Kojo Bonsu, however, added that, if no such opportunity arises, he will move to wherever National Democratic Congress believes his expertise is needed and do his very best.
Asked if he has any position he prefers should the NDC recapture power in 2024, Kojo Bonsu said he is ready to serve in whatever capacity and thus has no preferences.

"I wouldn't want to choose any portfolio. The party knows me, the party knows what I can do. Wherever they put me and see that I have the expertise to do it, I would love to do it," he added.

Kojo Bonsu contested John Dramani Mahama in the just-ended NDC presidential primaries with the latter polling over 98 percent of the votes cast to emerge as the party's flagbearer.

The politician also served as a Mayor for the Kumasi Metropolitan Assembly under the NDC flagbearer, John Mahama's administration from 2013 to 2016.

Watch the full episode of The Lowdown below:




You can also watch the latest episode of People & Places here:





ABJ/DO