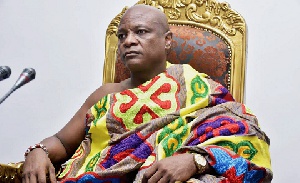 The Asogli State is demanding an "unqualified apology" from the New Patriotic Party (NPP) and its chairman Freddie Blay over the latter's "disrespectful" comment against Togbe Afede.
The respected traditional leader allegedly suggested to the Special Prosecutor to investigate Mr. Blay over the 275 buses he purchased for the ruling NPP ahead of the party's conference in Koforidua.

The comment attracted a strongly-worded response from the former First Deputy Speaker of Parliament, allegedly describing Togbe Afede's statement as "palmwine business talk" and sheer ignorance.

However, the Asogli State in a statement said the business magnate never uttered such statement and will not take Mr. Blay's comment lightly.

"We take strong exceptions to the statements, names and comments in this reply as they are insulting and disrespectful," Secretary of the Asogli State Council Stephen Tetteh stated.
"A statement such as this and from the President of the National House of Chiefs and an astute businessman does not warrant the kind of response from the National Chairman of the ruling party, a former 1st Deputy Speaker of Parliament and a lawyer."

He added: "The Asogli State Council demand an unqualified apology from the NPP and its Chairman for this their misconduct and disrespect shown to Togbe with immediate effect. Since the NPP remained silent, we can only conclude that this might be part of their boardroom decisions. Failure to heed this clarion call and the next line of action would be announced ASAP. ENOUGH is ENOUGH".