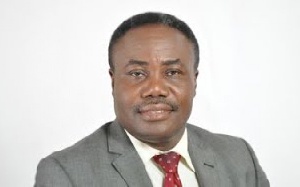 It is too early to question the ministerial appointments made so far by President Nana Addo Dankwa Akufo-Addo as well as the new ministries he has created, Dr Messan Mawugbe, Executive Director for the Centre for Media Analysis, has said.
The president has created six new ministries and has so far appointed 36 ministers-designate to be vetted by the Appointments Committee of Parliament. However, some portfolios and appointments have divided public opinion, with critics saying there will be duplication of roles.

The six portfolios include: Monitoring and Evaluation; Railway Development; Business Development; Regional Reorganisation and Development; Inner City and Zongo Development; and Special Development Initiatives.

"The six portfolios that are coming out as new portfolios, all these six portfolios will be working under the umbrella or under the aegis of the president. They are not standard ministries that are going to be established, they are all going to function as part of the office of the president. The ministers involved will have their dedicated portfolios and will find their being within the budget of the office of the presidency," Mr Akufo-Addo explained on Thursday.
Speaking in an interview with Emefa Apawu on Class91.3FM's 505 on Thursday, Dr Mawugbe said: "There is no blueprint against which presidents can select or formulate the various government's departments. I think it is based on the vision and the direction of the government as to how they think they will be in a position to deliver in accordance [with] the contents of their manifesto."

He added: "I agree that others are talking about multiplicity but I think it is a bit early for us to judge the way the president has selected his people, i.e. the various sectors he has created in terms of the ministries. But I think with the Inner City and Zongo Development (Ministry), the catchphrase 'Zongo' actually symbolises the peripheries in our country. So, for instance, perhaps within the vision of the government or the president, he thinks that to really give us the Ghana that we anticipated to have, we need to perhaps manage the peripheries and make the peripheries part of the centre, so that might the be reason.

"Zongo is not just the word 'Zongo', it is actually the barrier. It is the wild zone within the inner city that we have. So, perhaps, he wants to reengineer the Zongo concept into a new concept that we can all buy into it and add value and beauty to the country as a whole. So I think it will be too quick to talk about the duplicity because there is not any blueprint for any government as to how many ministers the government can form, but we should allow him time and let us see. Since Nana Addo has said that all of us should act as citizens but not spectators, I think it is in the same concept that we are having these discourses. Definitely we (Ghanaians) are going to evaluate how the various portfolios Nana has created is going to enhance the development of the country."