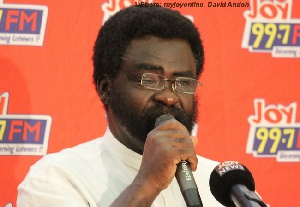 Several persons continue to heap criticisms on the New Patriotic Party (NPP) for the manner in which it conducted the party's Extraordinary Delegates Conference held in Kumasi last Sunday.
The opposition National Democratic Congress (NDC) says the party dishonoured them by denying them the opportunity to present their message of solidarity at the conference.

Mr. Kwasi Pratt, Managing Editor of the Insight Newspaper also said their conduct contradicts the National Constitution of the Republic of Ghana considering the kind of amendments they made.

National Chairman hopeful and Political Science Lecturer at the Kwame Nkrumah University of Science and Technology (KNUST), Dr. Richard Amoako Baah has described the behaviour exhibited by his party leaders at the Conference as "Mugabes" seeking to be in power for long.

He claimed leadership of the NPP is trying to protect itself with the new constitutional amendment.
"Look, I never thought this will happen in the NPP….. that before you become a Constituency Chairman unless you become a polling station agent and all sort of things. Meaning leaders are now trying to avoid others from getting to the top hierarchy". He observed.

"They now want to entrench themselves with it. They have now become "Mugabes". A livid Amoako Baah disclosed during a radio interview with Hello Fm on Tuesday.

Dr. Amoako Baah further suggested party must allow delegates to vote according to the hardworking attitude of members and not by entrenching the constitution to benefit themselves (leaders) claiming he was also denied the right to make his comments at the Delegate Conference.