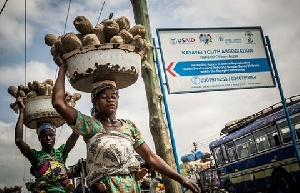 Government has abolished the 1% market tolls which has existed for several years.
The move is in fulfilment of President Akufo-Addo's promise of massive tax cuts during the 2016 elections.

Market women and head porters, popularly known as Kayayei, are required to pay one percent of their earnings in taxes to the state on daily basis.

The NPP used the market tolls as a campaign message and won the support of most market women and head porters ahead of the polls.

Delivering the government's maiden budget in Parliament Thursday, Finance minister Ken Ofori-Atta said the budget aims at building strong fiscal foundation for the Ghanaian economy.
He said the government will reduce tax exemptions and also broaden the tax base as part of several measures being considered to protect and enhance the public purse.

According to him, inefficiencies and waste in public spending will not be to tolerated, maintaining that government expenditure will be controlled. Below are some of the tax reliefs announced in the budget

Read the full 2017 budget statement here