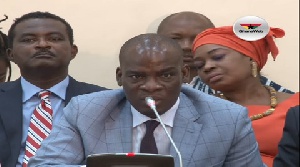 ONE HUNDRED DAYS OF DECEPTION, THUGGERY, CORRUPTION AND OSTENTATION - AN ASSESSMENT OF THE AKUFO-ADDO GOVERNMENT SO FAR BY THE NDC MINORITY IN PARLIAMENT ON TUESDAY 17TH APRIL, 2017.
Honourable Members of Parliament,

Members of the Press,

Distinguished Ladies and Gentlemen,

We are grateful to you for honouring our invitation to share with you our assessment of President Nana Addo Dankwa Akufo-Addo's first 100 days in office.

Kindly permit us to wish you and all Ghanaians a belated Happy Easter.

Ladies and Gentlemen,

From day one, a heavily plagiarised speech marked a rather inauspicious beginning to the Presidency of Nana Akufo-Addo on 7th January, 2017. That the President advertised to the world in his inaugural address that he had no ideas of his own was most shocking. By that singular act, President Akufo Addo gave our dear country its most embarrassing advertisement on major local and international mass media networks, when he insincerely parroted the speeches of two American Presidents, Bill Clinton and George W. Bush as well as a speech by President Muhamadu Buhari of Nigeria.

It is sad to say that for a party that claimed to have the men, they have been struggling to find their feet since that shameful inaugural address. They have so far been unconvincing about their mouth-watering campaign promises. They are not creating jobs for the masses, they are not alleviating hardships save for 110 ministers and their party apparatchiks. But they are terrorising citizens by unleashing their several partisan paramilitary forces to achieve parochial ends.

As you will recall, among other promises in 2016, Candidate Akufo-Addo said he would ensure:

1. Absolutely free Senior High School education for ALL JHS graduates starting from September this year;

2. Immediate and significant reduction of electricity and water tariffs;

3. Immediate and significant reduction of fuel prices by abolishing the Energy Sector Levies;

4. Payment of all contractors owed within the first 100 days of this government (by 17th April, 2017);

5. One Dam in each of the over 6,000 villages in the Northern, Upper East and Upper West Regions;

6. The full restoration and payment of nursing and teacher trainee allowances (an estimated GHC637.2 million per annum) for the 2017 fiscal year without compromising gains made in increasing enrolment since 2013;

7. Provision of a total of US$275 million (GHC 1,292,000,000) for disbursement to all 275 communities for the 2017 fiscal year;

8. Establishment of a factory in each of the 216 Districts of Ghana;

9. Payment of all customers of DKM, God is love and other victims of micro-finance swindles;

10. Provision of jobs for the teeming unemployed youth of Ghana;

11. Significant reduction of Corporate tax from 25% to 20%, 3% Special import levy, removing import duties on raw materials and machinery for production, reducing drivers insurance levies and cost of licence and reducing taxes on companies employing graduates among others; and

12. That all these are done without borrowing since all the money needed for these programmes could be found in Ghana.

Ladies and Gentlemen,

The nationwide and international embarrassment created by the plagiarised speech notwithstanding, we held out hope that in the days following that debacle, clear indications will be given through the initial steps taken by the Akufo-Addo/Bawumia government to fulfil their many campaign promises. This hope has given way too early to despair, dejection and despondency.

The Akufo-Addo/Bawumia government has, too early in the day, proven our elders right. Our elders have for long wisely held that "agro b3so a 3fri anopa" to wit the signs of an enthralling game can be detected right from the beginning.

Ladies and Gentlemen,
The early signs in the governance of our country under the NPP have been anything but impressive.

Instead of an all-action approach towards rolling out their lofty policies and programmes, the initial steps of this government, though tentative, give cause for major concern.

The first one hundred days of this government can be summed up under the following thematic areas:

POST ELECTION THUGGERY/TERRORISM, UNLAWFUL DISMISSALS AND INTIMIDATION

Long before the NPP came into office, it had earned the dubious distinction as the most violent organization in Ghana. Internal disagreements within the party degenerated into the bloodiest political clashes in the annals of the fourth republic. The deaths, injuries and losses incurred by members of that party are well documented. It had been believed by many that these dastardly acts will cease once the NPP won power and assumed control of the state security apparatus.

Since coming into office on January 7, the Akufo Addo government has given meaning to the saying that "the leopard doesn't change its spots". The NPP has been importing wholesale into government, the same acts of violence and lawlessness that marked their time in opposition.

No sooner had the results of the 2016 elections been declared than a rag-tag team of bandits loyal to the NPP and its leader, President Akufo Addo, begin to unleash blood-curdling violence on many innocent and law abiding Ghanaians, especially persons perceived to be NDC.

The thugs calling themselves "Invisible Forces", "Kandahar Boys" and "Delta Force" have instituted a reign of terror in many parts of the country including government facilities and installations. They have also just refused to allow security agencies to fully perform their lawful duties particularly at the seat of government and at state functions. This monster created by the NPP and their refusal to allow lawful state security agencies carry out their mandate is a slap in the faces of all Ghanaians particularly our distinguished men and women in uniform. Our prayer is that the menace will be brought under control.

Ladies and Gentlemen,

Four unusual, regrettable and condemnable dark incidents have shocked the nation since this latest round of NPP lawlessness started.

First, on Monday, 9th of January, 2017, the very first day that President Akufo Addo reported to work at the Flagstaff House, members of the notorious Invisible Forces subjected a senior police officer, ASP Nanka Bruce, to assault and harassment at no less a place than the seat of government, the Flagstaff House. These thugs later went to intimidate his family at home, ransacked his house and towed away his personal vehicles.

Secondly, it emerged soon after the Kintampo Water Falls disaster, which sadly claimed the lives of twenty (20) young and promising teenagers just last month, that the notoriously violent NPP Invisible Forces had soon after the 2016 elections driven away the professional staff and tour guides who were manning the place. The Invisible Forces subsequently took over the management of the Kintampo Water Falls without any prior training.

There are many who believe that the absence of Trained Tour Guides who otherwise manned the famous waterfalls contributed to this horrible disaster which claimed the lives of 20 promising teenagers. We pray once again that the good Lord should receive their souls in Paradise and comfort their families.

And we also pray that the Akufo-Addo government brings closure to the circumstances which led to the unlawful takeover of the Kintampo Water Falls by his government's sponsored illegal forces loyal to him and the NPP.

Ladies and gentlemen, If this singular sad incident does not constitute an act of deliberate terrorism then what else could qualify? President Akufo Addo cannot claim to be on the side of peace when he is actively condoning thuggery right from his days in opposition.

Thirdly, on 24th March, 2017, another group of NPP thugs, this time calling themselves Delta Force, carried out a shocking attack on the Ashanti Regional Security Coordinator at the Regional Coordinating Council in Kumasi. The reason for this senseless act of thuggery was that the said appointee was not their preferred candidate for the job of Regional Security Coordinator; and that his appointment flew in the face of earlier agreements reached with the President. According to the illegal Delta Forces, they had been promised their leader was the right and competent man for the post of Ashanti Regional Coordinator.

Now the fourth. On Thursday, 6th April, 2017, thirteen of these Delta Forces were arranged before the court of Justice Mary Nsenkyire in Kumasi, on account of their assault on the legitimately appointed Ashanti Regional Security Coordinator.

Ladies and Gentlemen,

A greater assault of unimaginable proportion under the Fourth Republic was just in the shadows- the Delta Forces physically stormed the lady justice's court and thumbed their noses on the face of justice delivery in Ghana. How?

Dissatisfied with her decision to remand them, the NPP forces once again demonstrated their knack for terrorism. They intimidated the judge and everybody who was in the court and its precincts by storming the court room and freeing the accused persons, whiles the police personnel on duty looked on helplessly. This contemptuous act committed physically right in court and before a judge, led to the accused persons fleeing from justice that day. We call on President Akufo-Addo to urgently step in, to assure the judiciary that they can be free to work devoid of fear from physical attacks among others.

Ladies and Gentlemen,

In addition to the four incidents listed, thugs led by known NPP officials and executives have unlawfully invaded the homes of prominent members of the NDC and the immediate past government to seize their private property under the guise of retrieving 'missing' state vehicles.

In other instances, these NPP thugs have driven away public sector workers in various government agencies and taken over offices. The goons have also attacked schools and driven away caterers feeding school children under the School Feeding Programme.

The impunity with which these violent thugs have behaved can only stem from tacit support from the highest levels of government. This can be the only plausible conclusion, given that no firm and finite action has been taken against these criminal elements save for feeble condemnations from the President. And even when state security officials have ventured to act, their actions have been frozen by blatant threats from leading figures in the NPP.

Other leading figures within the NPP on a number of occasions have threatened mayhem if these thugs are arrested and prosecuted. It would otherwise have beggared belief that a government that has all the coercive arms of the state at its disposal would be unable to hold to account its own Forces. These are young men engaging in lawlessness the likes of which have never been seen in the history of the fourth republic. This tacit state support is what accounts for the near paralysis of the security agencies to comprehensively intervene and stop the lawlessness.
Speaking plainly, the blame for the state of lawlessness afflicting the country must lie squarely with President Akufo-Addo. He is the one who encouraged the training of these thugs by South African Mercenaries. He is the one who benefitted the most from their intimidation and harassment of his critics within the NPP, during the bloody confrontations within that party between 2013 and 2016 in return for juicy appointments and precious gifts should he win political power. What was worse? While knowing that the activities of these violent groups violated Ghanaian law, he engaged them to guard his residence when he knew that the right thing to do was to engage the services of a professional security firm.

The NDC had cautioned in the run up to the 2016 elections that the violent acts exhibited by various NPP vigilante groups and the support they appeared to be getting from the leader of the NPP at the time, represented a clear and present danger to the safety and security of Ghanaians.

By failing to take decisive action against these hoodlums in opposition and now in government even as they continue to perpetrate violence, President Akufo-Addo has done precious little to shed the image of violence which many associate him with. Everything that has happened since President Akufo-Addo came to power vindicates our position. Sadly, Nana Akufo-Addo sowed this wind of thuggery and terrorism in opposition and Ghana is now reaping the whirlwind.

He got elected against all odds but he should not construe his electoral victory to mean an endorsement of a violent approach to governance as we have heard Government and NPP spokespersons and surrogates project whenever we have confronted them with these iniquities. The NPP must learn and know that what may have won them power will not sustain them in office.

Ghana today under the Akufo-Addo government is witnessing state sponsored thuggery and terrorism and we the citizens have watched on helplessly as our compatriots have been subjected to brutal assaults, harassments and intimidation. This state of affairs has come to define the first one hundred days of this government and there appears to be no end in sight.

We wish to remind the government that the security of Ghanaians, irrespective of their political orientation, irrespective of their profession, is a major responsibility of any government. The NPP has simply failed!

We must not as a people underestimate what this reign of terror has done to the image and status of our dear nation. Already, the United Nations (UN) was compelled on April 10, 2017 to issue a statement calling on President Akufo-Addo to call his thugs to order. Nothing can be more embarrassing to the country of Kofi Annan who made Ghana and all people of African descent extremely proud as Secretary General of the UN. Today, this is how President Akufo-Addo's government rewards Kofi Annan and this is Ghana's new reputation at the global body and on the world stage. Sadly, this spate of thuggery and outright lawlessness will most definitely have a negative impact on attracting foreign investors and tourists into Ghana which will adversely affect the Ghanaian economy.

In the area of security therefore, the Akufo-Addo/Bawumia government have been an abysmal failure and they need to do more in the coming days to earn the confidence of Ghanaians. They need to do more to set the hearts and minds of Ghanaians at peace. They should desist from choosing political expediency over reason and stop turning a blind eye as their thugs unleash more violence on Ghanaians, for their day of reckoning will come and they will be found wanting. President Akufo-Addo, end this violence now!

A BLOATED, WASTEFUL AND OSTENTATIOUS GOVERNMENT – 110 MINISTERS IN 100 DAYS

One pledge that stood out in the President's heavily plagiarised inaugural speech was the protection of the public purse. The NDC welcomes every attempt at protecting the public purse because protecting the public purse in very simple terms includes avoiding a large and unwieldy government that becomes a drain on state resources. This truism is deeply anchored in research and backed by years of practice. It also means installing a lean government that uses minimal resources to attain optimal output. That was part of the impression left with many Ghanaians when President Akufo Addo committed to protecting the public purse.

In the past hundred days, everything this government has done points to the exact opposite. We have had 110 ministers in 100 days and many more NPP party apparatchiks appointed even without due process.

Ghanaians have been shocked with the installation of an UNCONSCIONABLE and most OSTENTATIOUS government in the history of this country. An unprecedented elephant sized 110 Ministers and Deputy Ministers have been appointed by President Akufo Addo. By all accounts this number is absolutely excessive, absolutely unwieldy, absolutely unnecessary and totally constitutes a great burden on the tax payer.

Instead of concentrating on creating jobs for Ghanaians as promised, the composition of a government has now been turned into a job creation venture for prominent but unemployed members of the NPP, for no other logical explanation can be mustered.

While the decision to appoint this elephant sized government has caused consternation among an overwhelming majority of Ghanaians, the explanations offered for it have been jaw-dropping. We have for instance been told by government propagandists that the appointment of this humongous number of Ministers is a way of protecting the public purse. What a paradox?

Another weak explanation, this time proffered by the President himself, is that the economy is in such dire straits that he requires this large number of Ministers to accomplish the task of putting it back on track. Another paradox!

We wish to state plainly that what the President has done, is far from protecting the public purse. It constitutes a direct raid on the economy and the tax payer. Maintaining the salaries and creature comforts of this large army of Ministers will severely burden the poor tax payer. These appointments translate into 110 bungalows, 110 salon cars, 110 V8 Toyota Land Cruisers, 110 Body Guards, 220 Police Guards in their bungalows and on and on and on…What it also means at the end of their four year term in office as ex-gratia is unimaginable.

More importantly it represents a direct breach of his pledge to cut waste in public expenditure. He has acted in a way that will introduce more waste in government finances. Simply put, President Akufo-Addo has been wasteful and has not been candid with Ghanaians.

Mr President prune down your 110 ministers now!

Ladies and Gentlemen,

For instance, it is inexplicable and a needless duplication of function that a whole Minister, Hon. Sarah Adjoa Sarfoa, would be appointed to be in charge of public procurement at a time when a Public Procurement Authority exists to which the President only recently appointed an Executive Secretary. What is even more bizarre, the Procurement Act requires the President to appoint three representatives to the Board of the Procurement Authority whiles the PPA is also by law under the supervision of the Finance Minister. It simply means the NPP government is centralising key procurement decisions at the Presidency for personal and partisan gain.

The NDC government amended the Public Procurement Act to enhance its effectiveness. Appointing a minister to be in-charge of public procurement amounts to nothing but elongating the long arm of red tapism which in itself becomes a potential avenue for corruption.

We also find it mind-boggling that three Ministries would be created out of the Ministry of Transport, namely the Ministry of Aviation, Ministry of Railways and Ministry of Transport. An examination of the State of the Nation Address and the 419 Budget Statement reveals that the Akufo-Addo government will not be undertaking any major new transport sector projects in the foreseeable future.

At most, they will merely be continuing programmes, policies and projects started by the NDC government. In the aviation sector for instance, the NPP government has not shown any new policy or project it will undertake beyond completing work on Terminal 3 at the Kotoka International Airport, the new Terminals at the Kumasi and Tamale Airports, the Ho Airport and Aerodrome at Wa all of which were started by the NDC administration. Efforts were also well underway to establish a new National Airline on Public Private Partnership basis.

In the Railway sector, the NPP government will start work on the Tema to Akosombo Rail project which was conceived by the Mahama Administration and for which funding of over US$300 million was secured by the NDC government.

Before this, a Railway Master plan which will guide the development of the sector had been drawn up by the Mahama government. Front End Engineering Design for vast sections of the Takoradi to Paga Rail line had also been undertaken by the Mahama government. In fact the beginning of that rail line, that is the Sekondi Takoradi via Kojokrom Rail line had been completed and equipped with two modern diesel trains.
In the maritime sector, both the Tema and Takoradi Harbours have undergone major expansion works under the Mahama government running into hundreds of millions of dollars. In addition to this the MPS project was about to take off at the Tema Harbour. This USD1.5 billion expansion project when completed will result in the quadrupling of the current size of the harbour and create several thousands of jobs for the youth.

Substantial progress was also made in Road transport with the introduction of the Aaayalolo Bus and the expansion of the fleet of the Metro Mass Transit.

All the above were achieved with ONLY one Ministry, the Ministry of Transport with just a competent Minister and a competent Deputy under the NDC government.

There is no indication at all from either the NPP manifesto, campaign pledges, the State of the Nation Address or any other source that the Akufo-Addo government will do anything in the Transport sector that would even remotely rival what was achieved under its predecessor.

No justification therefore exists for having three different Ministries with six Ministers to work in just one sector when more will not be achieved. This is yet another bad example of a party that claimed to have the men but have proven per their actions to be incompetent too early in the day.

Again, we are completely befuddled by the decision to populate the Ministry of Information and Communications with seven Ministers. That is, a Minister and three Deputies for Information and a minister and two Deputies for Communications. Under President Mahama, the Information and Communication Ministries were merged and manned by three competent hands- a Minister and two Deputies. It simply defies logic that work done by three people has suddenly become so complex that seven people are now required to do it. Are they going to build more National Data Centers? Are they going to set up more state owned telecommunication companies? Are they going to beat the gong gong in every village, every morning to disseminate government information? Again and again, this is yet another bad example of a party that claimed to have the men but have proven per their actions to be incompetent too early in the day.

It is worth noting that these seven ministers are in addition to a phalanx of spokespersons and press secretaries appointed politically to work in Ministries Departments and Agencies. This category of appointees adds on to Public Relations Officers (PROs) who as civil servants already work in almost all government agencies.

The situation gets murkier when the curious case of the Agric and Education Ministries are analysed.

We have a situation where both the Agric and Education Ministries have substantive ministers and three deputies at Agric and two deputies at Education yet Ministers of State for Education and Agric have been appointed to work in the same sector at the Presidency. Additionally, there are the completely needless portfolios at the Presidency namely:

Minister for Business Development- His function can easily be performed by the Ministry of Trade and Industry;

Minister for Special Initiatives- an amorphous and nebulous designation whose specific role is yet to be disclosed especially when all the "one this, one that" slogans, if they were ever to be implemented, could easily be done by existing Ministries or Agencies;

Minister for Regional Reorganisation- His roles and responsibilities can readily be undertaken by the Local Government Ministry which in any event now has three Deputies in addition to the Minister. To add insult to injury, there is also a Deputy Minister for Regional Reorganisation.

The bizarre portfolios of Minister for Monitoring and Evaluation and Minister for Planning are equally needless and a complete waste of resources given that just about every Ministry or Agency in Ghana has a Monitoring and Evaluation and Policy Planning Directorate fairly capable of undertaking these tasks once the National Development Planning Commission (NDPC) is allowed to carry out its mandate.

To compound this problem, many special assistants have been engaged some of whom wield more power and are better rewarded than Chief Directors and other Civil Servants of the various Ministries, Departments and Agencies.

We demand on behalf of the people of Ghana, the full publication of the names and associated compensation packages of all persons engaged in this capacity since the Akufo-Addo government came into office.

In the considered view of the NDC, this indiscriminate approach to appointments completely debases and devalues governance. It creates the unfortunate impression that persons appointed to some of these needless and duplicated portfolios are in, to reap material benefits for their roles in the NPP campaign rather than on the basis of functional necessity.

A direct and deleterious consequence of this grossly over bloated 110 ministers is the unprecedented waste and ostentation that has already crept into the Akufo Addo Government. This also cements the NPP's reputation for lavish taste and penchant for profligate expenditure when in government.

Ladies and Gentlemen,

The Minority in Parliament during the debate on the budget, lifted the veil on a staggering GHC1.5 billion budgeted for the Office of Government Machinery (the Presidency) for the 2017 fiscal year alone. This figure is alarming to the extent that it is about GHC200 Million more than the amounts given to the same office for the entire four years of 2012, 2013, 2014 and 2015 of the Mahama Administration.

This stunning allocation beats the allocations made to 27 Ministries in the 2017 Budget at a time when the bulk of government business is conducted by various Ministries, Departments and Agencies.

To fund this wasteful enterprise, several critical state Agencies have been asked to keep only an infinitesimal percentage of their Internally Generated Funds (IGF). These include all of the country's Universities and vital health institutions like Korle-Bu Teaching Hospital, Komfo Anokye Teaching Hospital, 37 Military Hospital, The Accra, Pantang and Ankaful Psychiatric Hospitals and a host of other critical agencies whose activities are important for the general wellbeing of Ghanaians.

Ladies and Gentlemen,

Even as these government agencies are tightly squeezed for every cedi, we have become aware of some very extravagant spending on the comforts of President Akufo-Addo and his government.

We know for instance that many super luxurious custom made vehicles have been imported for the use of the President and other government officials despite the availability of relatively new fleets of vehicles well suited for the transportation of the President.

It is now clear that the falsehoods put out by the Presidency about supposed missing cars was only a pretext to justify this ostentatious spending in the eyes of the critical Ghanaian public.
What is even more worrying is the media gymnastics and acrobatics being churned out by NPP surrogates in the name of the safety of the President as a prelude and justification for the final arrival and use of these vehicles by President Akufo-Addo.

So we ask, who was President Akufo-Addo deceiving when they directed MDAs not to purchase new vehicles? Or we are back to the days of George Orwell's "Animal Farm" of "Four legs good, two legs bad" and the "All animals are equal but some are more equal than others" conundrum?

President Akufo-Addo, no amount of spin can justify the purchase of new vehicles for the presidential fleet particularly as we are in the know that there are bullet proof cars in perfect shape for your use.

We also know that staggering amounts of the tax payer's money have been spent on multiple parties and other social events as part of the Presidential inauguration activities.

We have seen evidence of how millions of the tax payer's money was spent on these parties at which expensive drinks served included some that were custom made with the President's name emblazoned on them. We call on the Akufo-Addo government to in the name of transparency and accountability make public the amounts spent on these parties.

Ladies and Gentlemen,

In the area of prudent spending and protecting the public purse, this government by its actions within its first one hundred days has given indication that it cannot be trusted and it is not to be trusted. Our resources will not be safe with such a large government that has a voracious and elephantine appetite. We wonder how the NPP could so soon abandon the plight of the people and the platform on which they campaigned to climb to power.

WOBLY ECONOMIC MANAGEMENT AND BROKEN PROMISES

Ladies and Gentlemen,

Led by Vice President Bawumia, the NPP in opposition made loud noises about the economy and used the slightest opportunity to run down its management and paint the gloomiest picture imaginable.

The President, his Vice and the Senior Minister or shall we say the Prime Minister, appear not to have recovered from the economy-propaganda-hangover of the campaign period and have at different times in the last 100 days resorted to that same rhetoric to justify their own wobbly performance. The President is for instance on record for claiming that his extraordinarily large number of Ministers is so because of the need to fix a very terrible economy.

These attempts to paint a gloomier picture of the economy than what they inherited has been belied by honest admissions made by the man in charge of Ghana's finances, Mr. Ken Ofori Atta, in the Budget Statement Presented to Parliament at the beginning of March this year.

In the Finance Minister's own words as captured in the Budget Statement:

• Inflation has been on a downward trend, falling from 19.2 % in March, 2016 to 15.4 percent in December, 2016. It was 13.2percent in January 2017;

• The Treasury bill rate has fallen considerably from 24.5 percent in December, 2015 to 16.4 percent in December, 2016;

• A Balance of Payments surplus of US$247 million was recorded representing a vast improvement on a deficit of US$129 million in 2015. A major improvement was also witnessed in the country's trade balance from a deficit of US$1.7 bn in 2016 to a deficit of US$3.1 bn in 2016. This was the result of an increase of 7.2 percent in exports receipts as well as a decline of 5.3 percent in imports;

• The NDC government bequeathed gross foreign reserves as of the end of December of US$6,161.80 billion, up from US$5,884.70 billion at the end of December 2015.This means that an additional US$277.07 million was added to our external assets. This provided import cover of 3.5 months; and

• The exchange rate of the Ghana cedi remained relatively stable. The Ghana cedi depreciation by 9.6 percent and against the US Dollar and 5.3 percent against the Euro. It appreciated by 10.0 percent against the Pound Sterling in the interbank market in 2016.

These admissions point to significant gains in the management of the economy under President Mahama and render the narrative of both the President and the Vice President less than candid.

The Finance Minister also showed in the same presentation that even the fiscal slippages especially the Budget Deficit and Growth rates were occasioned by largely exogenous factors including shortfalls in oil revenues and low commodity prices.

Be that as it may, the NPP claimed during the electioneering campaign that they will work to improve on the economic circumstances of Ghanaians. President Akufo Addo in particular accused the NDC administration at the time of insensitivity over fuel and electricity prices. More specifically, he promised that immediately after coming into office, he would reduce both fuel and electricity prices.

He singled out the Energy Sector Levy (ESLA) as the cause of hardships and promised to remove them. Contrary to this promise, fuel prices have gone up cumulatively by about 18% in the first hundred days of the Akufo-Addo administration, while electricity tariffs have not seen any reduction. Infact we want to find out from President Akufo-Addo whether rents have become lower than electricity tariffs since he became President?