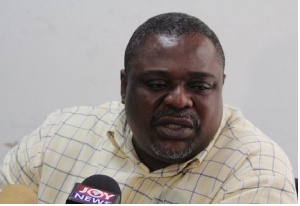 The opposition National Democratic Congress (NDC) has criticised the absence of President Nana Addo Dankwa Akufo-Addo from a town hall meeting that touted the New Patriotic Party's achievements in its first 100 days in office.
Vice President Dr Mahamudu Bawumia, speaking at the event on Easter Monday 17 April, said even though the NPP did not make promises for its 100 days, significant achievements had so far been chalked.

Dr Bawumia noted that despite inheriting a very difficult economy, the government, under Mr Akufo-Addo, had been able to fulfil many of its promises which secured it victory in the 2016 polls. He said government had recorded at least 103 achievements within its first 100 days in office.

But speaking to Class News, Deputy General Secretary of the NDC, Koku Anyidoho, questioned why the government chose to hold such an event on a holiday, away from the prying eyes of the public.

"Where was the president himself? We voted for the president, so one would have expected that he himself would have been on his feet to speak to us. At least President Kufuor used to hold some town hall meetings and he used to lead the engagements himself. President Mills used to engage the media at the Castle on his feet between two and a half hours and then he shouldered all the questions. And when I say 'media', it included known opposition media houses," he stated.
"Easter Monday was being observed worldwide. Under the laws of Ghana we are told as citizens, and not spectators, to observe statutory public holidays as such. Why did the Vice President not observe a statutory public holiday and decide to hold this press conference on a statutory public holiday? What is he running away from? What is he hiding that he must blind it with a statutory public holiday when he knows that maybe 75 per cent of the country will not be paying attention because people are out of Accra, people are revelling, people are in church and he wants to run away from the real issues? So he chooses a statutory public holiday and then chooses a medium that does not speak to the whole country and speak to the whole world," Mr Anyidoho added.

He further questioned why other media houses were not allowed to broadcast the meeting live on their airwaves.

"[Were] Class FM and Accra FM allowed to report live? No. And what happened to the state broadcaster? Why couldn't he have used the state broadcaster GBC and then all of you could have fed off GBC? So this smoke screen kind of thing, this stage managed thing where they want to applaud themselves, they can continue to applaud themselves but the whole nation is not applauding."