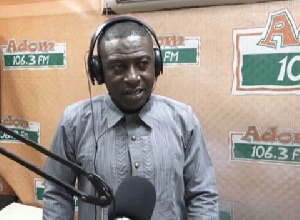 Adom FM journalist, Godsbrain Blessed Smart, popularly known as Captain Smart, has lashed out at management of the radio station over the handling of his alleged arrest.
The radio host was reported to have been arrested during last Saturday's Annual Delegates Congress of the ruling New Patriotic Party (NPP), held at the Koforidua Technical Institute.

Reports in the local media suggested he was arrested after gracing the event in the company of bodyguards who dressed as military men.

The reports further claimed that upon his arrest and interrogation, unauthorized guns and accoutrements were found on him and his bodyguards.

Although Captain Smart was later granted bail, he has since been in the news over the reported incident.

But in a latest episode of this saga, the radio host has blasted his employers over a statement they released regarding his alleged arrest.
Management of Adom FM released a statement distancing the Accra-based radio station from the incident and their morning show host.

The statement confirmed the arrest of Captain Smart, adding that "we wish to state that the Management of the Adom FM has neither assigned any personal bodyguards to Captain Smart nor do we know of any and that his actions, if true as alleged, were neither sanctioned nor condoned by us".

However, the statement issued by Adom FM has not gone down well with the journalist, who described the management of the radio station as "stupid" and "fools" for their handling of the issue.

Responding to the statement in a WhatsApp group containing other journalists, Captain Smart said management of Adom FM did not bother to ask him what happened when he returned to Accra from Koforidua, following reports of his arrest for illegal possession of firearm and military bodyguards.

According to him, management did not even confirm the story from the Police or National security before disowning him in their statement.
Read Adom FM's full statement below:

The attention of Management of Adom 106.3 FM has been drawn to reports in the media that Godsbrain Blessed Smart, a.k.a. Captain Smart, host of Adom FM's Morning Show, Dwaso Nsem, was picked up for questioning by the Police on Saturday, July 7 2018 at the NPP National Delegates Conference, which took place at Koforidua, Eastern Region.

Captain Smart was part of a team from Adom FM 106.3 FM who were dispatched to cover the Conference. From the reports, Captain Smart was arrested together with his bodyguards.

The reports allege that his bodyguards, who were dressed like military men, were wielding unauthorized guns and other unauthorized accoutrements.

We understand from the reports, that National Security Officers present, took over the case and subsequently granted bail to Captain Smart, after interrogation.
The matter is currently being investigated by National Security. We wish to state that the Management of the Adom FM has neither assigned any personal bodyguards to Captain Smart nor do we know of any and that his actions, if true as alleged, were neither sanctioned nor condoned by us.

Even though we have commenced internal investigations into the matter, we will await the outcome of the National Security Investigations, upon which further action will be taken if necessary."

By Management of Adom 106.3 FM