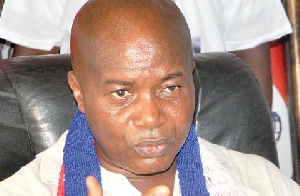 Stephen Ayesu Ntim, the four-time National Chairman loser of the governing New Patriotic Party (NPP) was nowhere to be found at the party's Thanksgiving Service held at the Jesus Temple of the International Central Gospel Church(ICGC) in Koforidua on Sunday July 8, 2018.
Delegates who attended the NPP's 25th Delegates Congress where its National Executives were elected on Saturday July 7, attended the church service today to thank God for a successful event.

It is unclear why Mr Ntim who was beaten by then Acting National Chairman Freddy Blay by 463 votes margin was absent from thanksgiving service which saw dignitaries including the President and his Vice, Ministers of state, Majority MPs and other political appointees attending.

Mr Stephen Ntim after he lost his fourth time bid to become the National Chairman of the NPP, declared that his loyalty to the party is unshaken, even though he has been unsuccessful.

Freddie Worsemawu Blay beat Stephen Ntim by polling 3021 votes as against Ntim's 2515 votes at Saturday's national delegates conference in Koforidua.

Another candidate Dr Richard Amoako Baah, a Political Scientist garnered 18 votes.
"First of all I want to express my sincerest thanks to almighty God for making this day possible. I want to also thank the organisers for this conference and our distinguish delegates for doing what is expected of them," Mr Ntim said while accepting the results of the elections after the declaration by the Electoral Commission.

"It is rather unfortunate that I have to lose for the fourth time in my attempt to serve the party in the capacity of national chairman."

"However, once again it is victory for the New Patriotic Party, because we have succeeded in electing our new crop of national officers to steer the affairs of the party for the next four years.

"As usual, my loyalty to the New Patriotic Party is not shaken by what has taken place. We can continue counting on Stephen Ntim as usual, because it is party first, thank you all very much," he said.