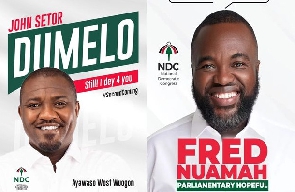 Actor cum politician, Fred Nuamah has formally written to the National Democratic Congress (NDC) to withdraw his bid to become the NDC's parliamentary candidate for the 2024 elections.
By his withdrawal, Nuamah also announced support for his one-time political rival in the race for the Ayawaso West Wuogon parliamentary slot for the party, John Settor Dumelo.

The state-owned Daily Graphic reported that the letter of withdrawal was addressed to the General Secretary of the NDC and the chairman of the Ayawaso West Wuogon constituency.

"I firmly believe that the NDC must present a unified front for the 2024 general elections. As a dedicated member of the NDC, I prioritize the party's unity and the President John Mahama project aimed at rescuing our country.

"I wholeheartedly endorse and throw my support behind my good friend and brother, Mr. John Dumelo, to be the parliamentary candidate for the NDC in the Ayawaso West-Wuogon constituency," the letter stated in part.

Nuamah and Dumelo, despite being colleagues in the showbiz industry engaged in heated political banter when Dumelo, the NDC aspirant in the 2020 polls, accused the former of back stabbing him with a decision to contest him at the primaries.
The Ayawaso West Wuogon primary as one of over a dozen that the party postponed with the view to resolving internal issues before holding their primaries.

The duo engaged in heated exchange on UTV during which Dumelo said among other things that they were not friends anymore whiles Nuamah vowed that he was never going to step down in his first shot at a political position.

SARA

Watch the latest episode of Nkommo Wo Ho on GhanaWeb TV here:






Watch the latest episode of The Lowdown on GhanaWeb TV below:




Watch the latest episode of Legal Agenda on GhanaWeb TV below:





Share your news stories and ideas with GhanaWeb


To advertise with GhanaWeb