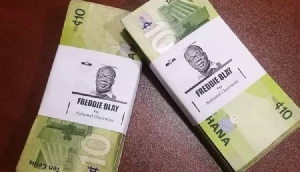 An aspirant for the position of National Chairman of the ruling New Patriotic Party (NPP) Freddie Blay is allegedly doling out huge amounts of cash to delegates of the party ahead of the Congress slated for Saturday at Koforidua.
Social media has been awash with images of the bundles of 10 cedis notes wrapped in a "Freddie Blay for NPP National Chairman" paper wrapper.

It is yet unclear how the bundles, obviously meant for party delegates leaked, but many say it will not be above a Freddie Blay, who promised 275 buses for his party and delivered in record to pay out the huge cash to delegates of the party.

The possibility has also been raised that it could be a ploy by his opponents to smear Mr Blay as already, the Ghana Integrity Initiative has accused the State Oil company GNPC Board Chairman of vote buying.
Mr. Blay has been criticized for taking steps to fulfill his promise of purchasing the 275 buses, after he took delivery of the first batch of 100 mini buses at the Port on Wednesday, barely three days to the party's national delegate's congress in Koforidua, where he's contesting to become the substantive national chairman.

Mr. Blay, who facilitated the purchase of the minibuses, is reported to have made a down payment of 3 million dollars, which constitutes 30% of the total cost of 11.4 million dollars for the 275 cars.

Mr. Blay's spokesperson has explained that the buses are not for free, and that they are to help the constituencies to manage their activities by themselves and generate revenue by using them for commercial purposes, to pay for them over a two-year period.