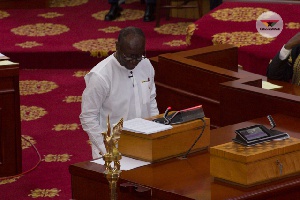 Government has budgeted GHS400million to fund its Free Senior High School policy, which starts September this year, Finance Minister Ken Ofori-Atta has disclosed.
This was contained in the maiden budget of the Akufo-Addo government read by Mr Ofori-Atta on the floor of parliament on Thursday 2 March.


#Budget2017 pic.twitter.com/z7UUZVbXbz

— Nana Akufo-Addo (@NAkufoAddo) March 2, 2017
The Free SHS policy was a key campaign promise of the New Patriotic Party ahead of the 2016 elections.
According to Mr Akufo-Addo, "By Free SHS, we mean that, in addition to tuition which is already free, there will be no admission fees, no library fees, no science centre fees, no computer lab fees, no examination fees, no utility fees; there will be free textbooks, free boarding and free meals, and day students will get a meal at school for free."
The president further indicated that the policy would also cover agricultural, vocational, and technical institutions at the high school level.

Read the full statement below