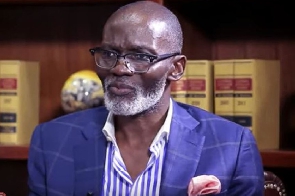 A stalwart in the government of the New Patriotic Party (NPP), Gabby Otchere-Darko, has expressed misgivings over the preparedness of the Electoral Commission (EC) to effectively and efficiently organise the 2020 elections using a new biometric data.
"I am nervous 12 months to the next polls, the Electoral Commission is yet to begin the processes of putting together an acceptable and credible and transparent voters' biometric data which will be used to conduct the polls.

"I do not know details of the EC procurement processes and current happenings at the commission but, as a "veteran" campaigner for electoral reforms over the years, I was worried to hear with less than 12 months to next general election EC is yet to decide on a new entity and technology to introduce new biometric data system for next polls," Mr Otchere-Darko intimated.

But EC allayed fears of Mr Otchere-Darko when it indicated that even though it had opened doors for further dialogue, it was primed to go ahead with intended procurement of new technology for purpose of collecting and using biometric data of the electorate.

According to Sylvia Annoh, the acting Director of Communications for the EC, assured that "the commission believes in dialogue and acquisition of new biometric system will enable us deliver free, fair, credible and transparent elections since we operate open-door policy and any political party having issues on any of our projects should come forward and dialogue with commission."
However, legal practitioner and 'veteran' campaigner for electoral reforms, Mr Otchere-Darko suggested that "my concern stems from commission is yet to decide on whether or not to introduce a new biometric data system or maintain the old system, it worries me.

"I hope they get it right, education, sensitisation and awareness on where we are and how we get there will be very helpful, I'm nervous, need to assure stakeholders of steps taking to conduct credible, transparent, free and fair elections," Mr Otchere-Darko entreated.

The EC, in an Inter-Party Advisory Committee (IPAC) meeting, put forth proposed new technology to collate biometric data of eligible citizens ahead of 2020 elections with some political parties including the National Democratic Congress (NDC) opposed idea and insisted EC had not sufficiently provided reasons why the move was necessary.