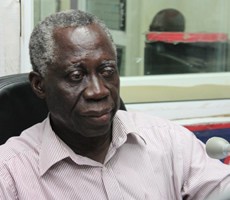 Former Finance Minister and Senior Minister-designate, Yaw Osafo Maafo has stated categorically that the country can never become a HIPC state.
The veteran politician who is touted as one of the finest finance ministers in the country's history made the profound statement at the Jubilee House on Tuesday when the President released a list of thirteen minister designates for vetting.

According to him, the country is highly indebted but not poor which does not permit Ghana to become HIPC. "Currently Ghana's debt to GDP is about 72% whereas in our time it was about 26%," he remarked.
Also, speaking on how to raise sufficient capital to run the economy and execute their campaign promises against the backdrop of tax reduction as one of the promises, Mr. Yaw Osafo Maafo mentioned that measures will be put in place to block all leakages.

And that key financial institutions such as the airport, Tema Harbour, Ghana Revenue Authority amongst others would be monitored and checked to avoid any spillage.