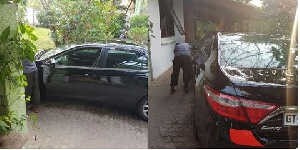 Finance Minister Designate, Ken Ofori Atta has opted to use a Toyota Camry instead of an SUV vehicle when he finally gets approval from parliament to serve the ministry, according to Gabby Asare Otchere-Darko.
The founder of Danquah Institute in a tweet, Wednesday, commended Mr. Ofori Atta for making a "bold statement" to use a lesser vehicle for official business.

Mr. Ofori Atta's move can be said to be an action of exercising fiscal discipline, a concept which was inferred heavily by the New Patriotic Party (NPP) during the campaign period.

The party accused the then National Democratic Congress (NDC) government of mismanaging the country's scarce resource to the detriment of the poor and vulnerable in society and vowed to issue guidelines to ensure there is fiscal discipline in the usage of public funds when given the mandate to serve the country.

President Akufo-Addo on Tuesday appointed Ken Ofori Atta as Finance Minister designate.
Ghana's Finance Minister designate makes a bold statement. Dumps SUV for Toyota Camry. pic.twitter.com/pEB1yJ3kYs

— Gabby Otchere-Darko (@GabbyDarko) January 11, 2017
Ken Ofori Atta is a Co-Founder of Databank Financial Services Limited and served as its Executive Chairman from 1990 to February 14, 2012.
He has worked with Salomon Brothers and Morgan Stanley, on debt and equity issues and financing for a variety of industries.
He is a Co-Founder of the African Leadership Initiative of the Aspen Global Leadership Network and serves as the Chairman of both Trust Bank Limited as well as Family Ventures and Offices.