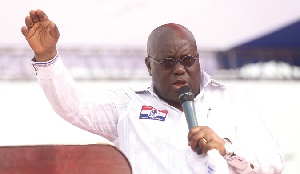 President Nana Addo Dankwa Akufo-Addo has touted the achievements of his government, pointing to the strong performance of the economy and the roll-out of social interventions that are helping to make things better for the people.
The economy, he said, was working again and expressed optimism that, the 2017 Gross Domestic Growth (GDP) rate of 8.5 percent, would be repeated, this year.

Fiscal deficit was also down from 9.3 percent to 6.5 percent, with inflation climbing down from 15.4 percent to single digit figure.

The cedi, he noted, was a more stable currency, despite its recent challenges.

Addressing the national delegates' conference of the ruling New Patriotic Party (NPP) in Koforidua, President Akufo-Addo said, these gains had come on the back of discipline in the management of public finances.

He added that they had begun to restructure the country's debt "to give us greater fiscal space".
"I know there are some who think these figures are meaningless, they are wrong."

"We think this point to a growing stronger macro-economy – without that, we cannot deliver prosperity."

He applauded the Economic Management Team and pledged to stay the course – to remain resolute and deliver prosperity.

He underlined the need for economic growth to be broad-based, saying, this was important if it was to be meaningful.

Over 6,000 delegates from across the 275 constituencies had gathered at the Koforidua Technical University to elect new national officers to lead the party into the 2020 general election.
President Akufo-Addo told the delegates that the government was keeping the election promises made the people and cited the free Senior High School (SHS) policy implementation.

He announced that the number of beneficiaries would double to 180,000 students, this coming academic year and 8,000 more teachers were going to be recruited.

The goal was to make sure that everybody had access to a minimum of quality senior high school.

He spoke of the increase in the capitation and expansion of the school feeding programme.

Added to these, was the revival of the National Health Insurance Scheme (NHIS) as much of the debt had now been cleared.
President Akufo-Addo, again, mentioned the stability in power supply and reduction in electricity tariff.

There was also the distribution of subsidized improved seeds and fertilizers to farmers under the Planting for Food and Jobs programme.

This, he said, would be extended to 500,000 farmers this year, from 200,000 and the target was to hit one million.

They were going to transform - change the face of Ghanaian agriculture.

The government was ready to roll out the one district one factory and the construction of one village one dam had already begun, the President said.
He also made reference to revitalization of the railway system and digitization and formalization of the economy.