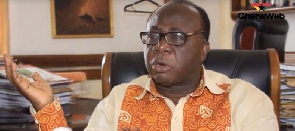 Acting National Chairman of the NPP, Freddie Blay has rejected all suggestions that he is an Nkrumahist.
Freddie Blay who is seeking to become the substantive chairman of the governing party, served as a member of parliament on the ticket of the Convention People's Party (CPP) from 1997 to 2008.

He was, in fact, one of the notable faces and strong voices in the party founded by the country's first President, Dr Kwame Nkrumah.

He resigned from the party months after losing his parliamentary seat to Emmanuel Armah Kofi Buah who remains the incumbent MP for area.

In an interview with TV3's Kwakye Afreh-Nuamah, the former second deputy speaker of parliament explains that "I am not an Nkrumahist at heart.

I believe I am a liberal democrat. There is a saying in Akan language that, 'Paul amba nt3m mpo,osen adikanfo.' In this case, they should judge me like a Joseph. I have come to work as a team member. I have been loyal. Loyal to the party that I have joined."
Biblically, Joseph was used by God to deliver the people of Egypt from acute famine.



Freddie Blay is in the chairmanship race with three other candidates and insists he is the right man for the job, after leading the NPP to power in the 2016 general election.