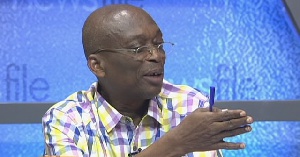 Seasoned journalist Kweku Baako Jnr. has congratulated Freddie Blay over his victory during the New Patriotic Party (NPP) National Delegates Conference over the weekend.
The NPP held their Delegates Conference at the Koforidua Technical University to elect new national executives.

The event which began on Friday, July 6 - Sunday, July, 8 saw in attendance all President and Vice President of the Republic, Nana Akufo-Addo and Dr. Mahamudu Bawumia, NPP National Executives and several dignitaries together with thousands of delegates.

Mr. Freddie Blay was elected National Chairman of the party after a tough competition from the camp of Stephen Ntim who fiercely contested for the National Chairman position.

Speaking on Peace FM's Kokrokoo, Kweku Baako believed Mr. Blay is loyal and due to his record in the party would help strengthen the frontiers of the party.
He told host Kwami Sefa Kayi that he doesn't "see why people seek to question Blay's loyalty after going to Congress, in 2014, and was elected as Vice Chairman; and presiding over the party as Acting Chairman when the party went into crisis. Together with others, they steered the party to victory . . . Freddie and the other executives who have been elected should make sure they'll strengthen the unity of the party".