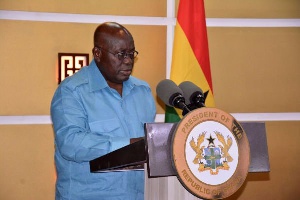 President Nana Akufo-Addo has told members of the New Patriotic Party (NPP) that he will crush any attempt by anybody to "capsize our boat".
Speaking at the national delegates' conference of the NPP in Cape Coast, Central Region on Saturday, 26 August, Nana Akufo-Addo said the NPP has a rich heritage in Ghanaian political history which he will safeguard with all the strength he can muster.

We are the heirs of the noblest tradition in Ghanaian politics; the tradition of freedom, the tradition of progress, the tradition of development in freedom. It's a precious asset.
"We are going to be faithful to that tradition. We are faithful to that tradition if we recognise that we are all in the same boat; we are rowing towards the same destination about the upliftment of Ghana and about the freedom of Ghana.

"It means that, therefore, anybody who wants to rock that boat and capsize it – for the time being I am the captain of the boat – I am not going to allow anybody to capsize our boat. Too much effort and sweat and sacrifice has gone into bringing us where we are today to allow anybody to capsize it. Our strength is the vision and the values of our party, that is the rock on which we stand," the president said.